SAMPLE SCENES - John Storm is a resourceful ocean conservationist, determined to save an injured whale from being eaten by sharks, while trapped in ghost fishing nets. In this illustration John comforts Kulo Luna, and cuts her free from the polypropylene tangle.
STOP PRESS: JUNIOR SCRIPT WRITER - We are looking for a trainee script writer, to help us develop a feature film, specifically to include imaginative product placements in the story line. If you are interested in this stimulating position, please get in touch, sending us details of your qualifications or other experience, aspirations, etc. Suitable for students of the big screen, looking to gain experience with a view to a permanent position:
Email: growth at blue-growth dot org
Rate: £15 - 25k pro-rata, depending on experience of using industry standard format and software.
Length of Contract: 3-6 months, extendable on review and by agreement.
Covid19 compliance: You can work from home, but must be contactable.
To apply, please submit a sample of your work, by way of how you would treat the Shark Attack chapter, if it were the Opening Sequence of a moderate budget feature film. A good example of a moderate budget film would be 'In the Heart of the Sea,' from 2015. A movie with a great scene (CGI) where a sperm whale sinks the Essex.
The opening Scene 1 (your mission) in the draft movie proposal , is Chapter 14 (in the comic section of our website) : Shark Attack

We are planning to use this Chapter as a stunning opening sequence for the proposed film, to plunge headlong into the story midway, and establish the John Storm character as able to handle himself (Bond, Benjamin Gates - ish) in dangerous situations, introduce his chum Dan Hawk as his techie, and the giant humpback whale (Kulo-Luna), the star of the show – showing not telling. It is worth reading the Chapter before you start - and note this (opening) scene precedes a flashback as Scene 2, then the action comes back into time at Scene 9.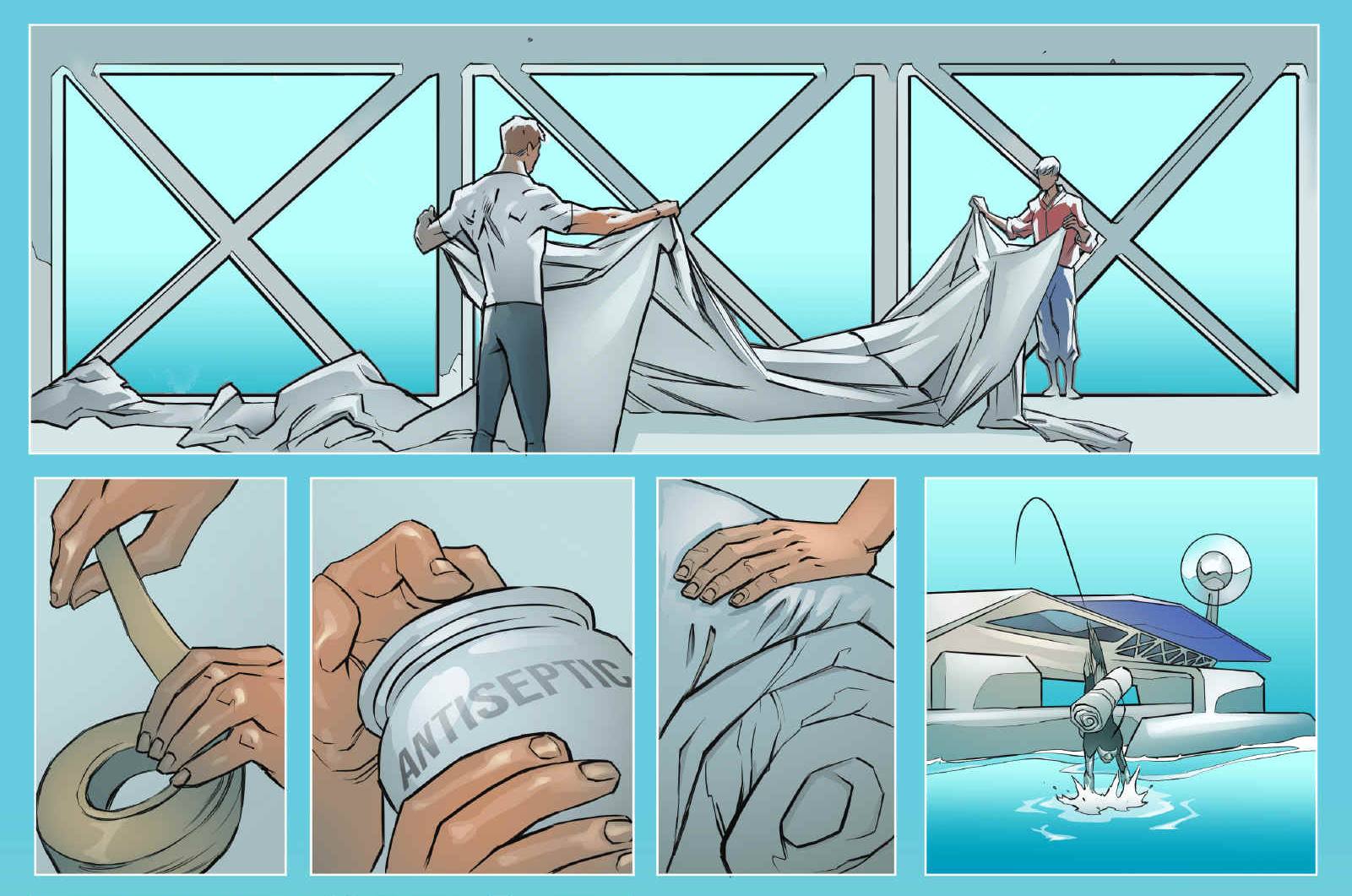 SAMPLE SCENES - John and Dan make the world's largest bandage laced with an amazing healing balm, rolled into a pack to be able to apply to the freed whale, in an open sea situation.
LENGTH OF FILM
The length of this family, feature (adventure) film is as yet undecided. We'll assume between 90 and 110 minutes, dependent on final budget allowed. (Ninety mins for animation). The opening scene is potentially the most important. We'd allow up to 8% of runtime. Hence aim for between 7.2 minutes - and - 8.8 minutes. So, around 8 minutes on a 100 min runtime movie.
We will share information of pitches at the appropriate time. Film could be animation or live action. A good example of interchangeability is Disney's 'Mulan.' Both versions work for different reasons. We are keeping options open, since difficult to predict market, but will stay with same script unless a very good reason not to.
Note: Graphic Novel is different in Chapters to the Book, and the Script is different again to the Graphic Novel. A script should only be as long as needed to tell the story. See the proposed film sequence here, where the rule of three is a good guide:
1/3 Set up
2/3 Struggle
3/3 Resolution
PRODUCT PLACING
In the opening Scene we need to insert/include "potential products for placing." For example: games, computers, a cola or energy drink, medical suppliers, the media (???), mobile telecommunications, satellites, navigation instruments, etc. We need to do this sympathetically, aiming not to be slated by the critics, as some franchises have been.

Suggest for this Scene you include a divers watch (as John suits up) without naming the brand (at this stage), navigation instruments and computer (as the radar, etc) as they search for Kulo, and a pharmaceutical company (????) for the amazing healing balm the duo use for the giant bandage.

We don't want to restrain your creativity, so perhaps work on the body of the Script and leave spaces to drop in the product placings, once you are happy with the overall feel. The point being to work in such placements in as natural a way as possible. See the movie: 'Real Steel' for saturation placing, without altering the story unacceptably. (Our view)

We would expect you to be at least familiar with 'Final Draft' industry standard software, or another good composition aid (Movie Magic, Writer Duet), or be prepared to use such (compatible) software as you are accepted for this position.
CLOSING DATE: Monday 3rd May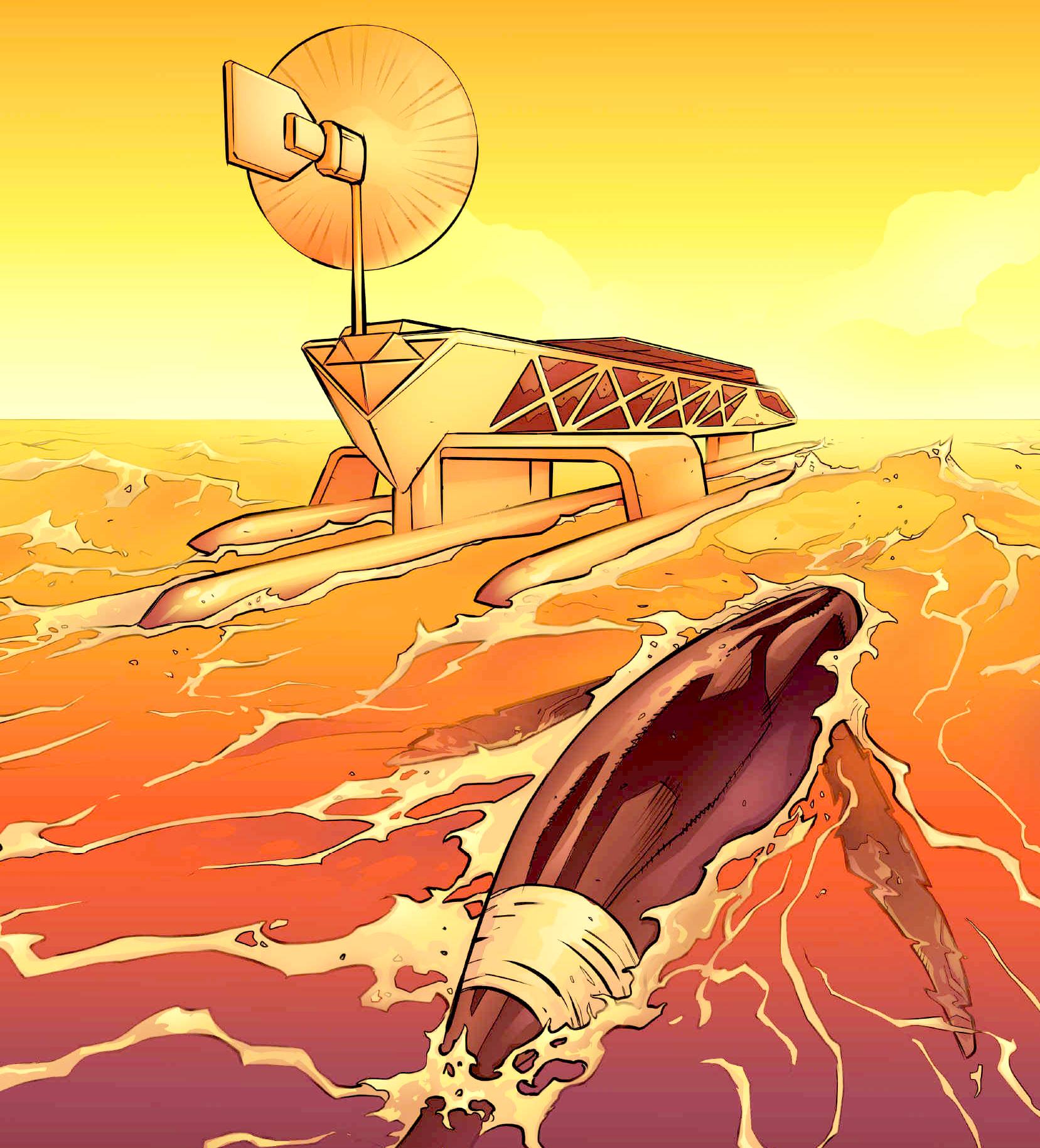 SAMPLE SCENES - All bandaged up, Kulo Luna is happy to swim with her new human friends and their unusual looking boat, plotting a course into the Pacific sunset.