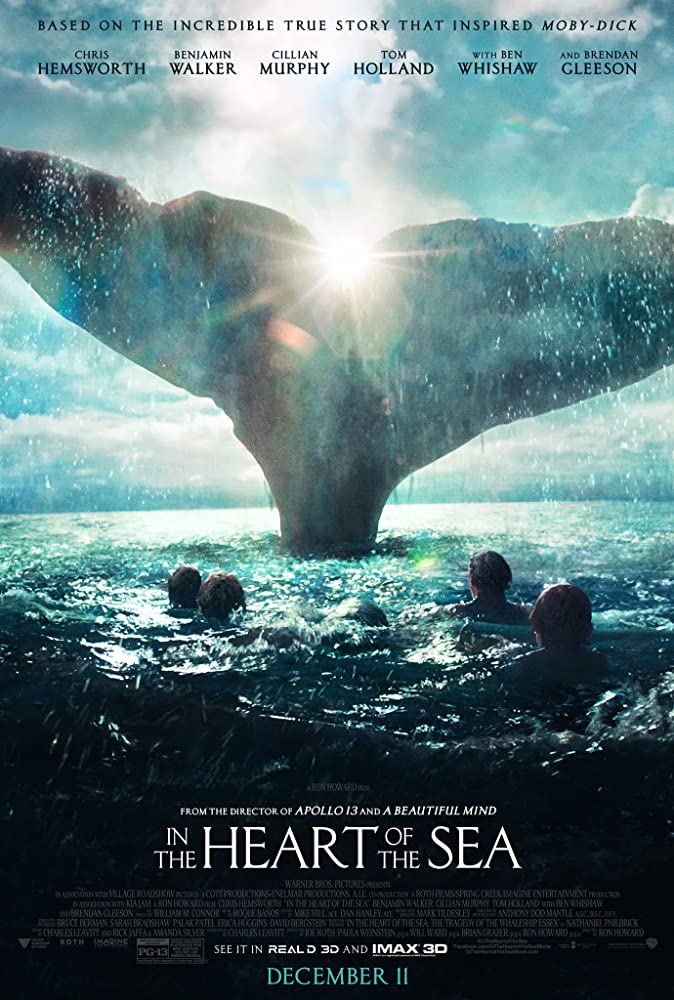 This is a superb production by a consortium of film makers despite a relatively low budget, with very passable CGI when it comes to the sperm whales, that well and truly surpasses those of the TV mini series in 2010 and 2015.
Without any doubt the series of Moby Dick adaptations has inspired the production of this cetacean tale, where in essence it could be a remake of the 1956 film Moby Dick, under a different name (Heart of the Ocean, as in Titanic, another sinking movie), with a different crew, but with the sperm whale and destruction of the ship being common factors. Into that is the struggle post-sinking of the crew to survive being shipwrecked, and turning to eating one another to survive.

In the Heart of the Sea is a 2015 historical adventure-drama film directed and produced by Ron Howard and written by Charles Leavitt. It is based on Nathaniel Philbrick's 2000 non-fiction book of the same name, about the sinking of the American whaling ship Essex in 1820, an event that inspired Herman Melville's 1851 novel Moby-Dick. An international co-production between the United States and Spain, the film stars Chris Hemsworth, Benjamin Walker, Cillian Murphy, Tom Holland, Ben Whishaw, and Brendan Gleeson.

The film premiered in New York City on December 7, 2015, and was released in cinemas in the United States on December 11, 2015, by Warner Bros. Pictures. In the Heart of the Sea received mixed reviews from critics, and was a box-office bomb, grossing $93 million against a very slim $100 million budget, against Master and Commander Far Side of the World's budget $150 million and $212 million box office.
Though we would say that it's hard to see how boosting the budget would have produced a better picture. It's more the subject matter and timing. The film is a visual feast for ocean and whale lovers. Consider also, Titanic, with Kate Winslet that in 1997 had a budget of $200 million and box office $2.196 billion. Making that a $Billion Dollar Movie twice over.
The film is based on 'In the Heart of the Sea' by Nathaniel Philbrick.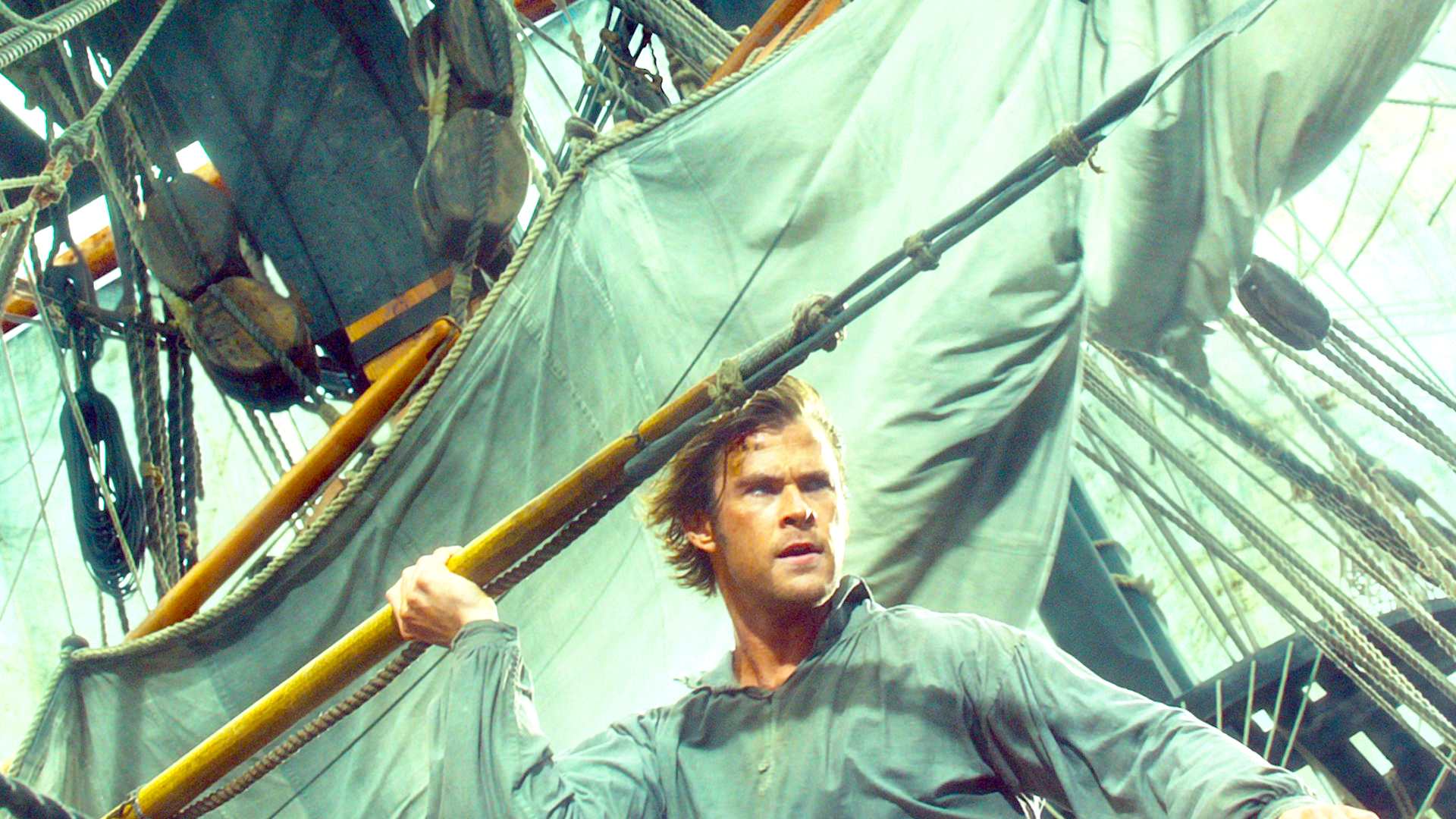 THE PLOT

In 1850, author Herman Melville visits innkeeper Thomas Nickerson, the last survivor of the sinking of the whaleship Essex, offering money in return for his story. Nickerson initially refuses, but then finally agrees when his wife intervenes.

The story turns to 1820: a whaling company in Nantucket has refitted the Essex to participate in the lucrative whale oil trade, and 14-year-old Nickerson signs on as a cabin boy. The owners hire veteran whaler Owen Chase as first mate, though he is disappointed not to receive a captain's commission. The captain is George Pollard, an inexperienced mariner from an established whaling family who envies Chase's skill and popularity. Chase and Pollard clash, leading Pollard to sail into a storm against Chase's advice. The two agree to put their differences aside, rather than risking their reputations by returning to port without profit, and soon, the crew kills their first bull sperm whale.

Three months pass with no further successes, and Pollard realizes that the Atlantic Ocean holds no sighting of whales. The Essex sails past Cape Horn to the Pacific, hoping for better luck in catching one. In Atacames, Ecuador, the officers meet a Spanish captain who tells them his crew found the bountiful "Offshore Grounds" 2,000 miles to the west, but claims that a vengeful "white whale" destroyed his ship, killing six of his men. Dismissing the story as a myth, Pollard and Chase lead the expedition west. They find the undisturbed grounds, but when they launch the whaling boats, the white whale, a massive albino bull sperm whale attacks, damaging the boats and turning on the ship.

Chase harpoons it from the Essex's deck, but the whale staves the ship in half, killing two men. The crew abandons the sinking Essex in the three intact whaling boats, and must sail hundreds of miles to shore with very limited supplies. The whale follows and attacks again, but they escape to the tiny Henderson Island. While gathering food, Chase discovers the corpses of earlier castaways, and concludes that the crew will soon die on the island before another ship passes by. Four men decide to stay, while the rest set sail again on the boats with hopes to find land. Soon after, one of the men dies, and the remaining crew reluctantly decide to cannibalize him.

The older Nickerson is overcome with remorse for his cannibalism and stops his story, thinking his wife could not love him if she knew about it; however, when his wife comforts him, assuring him that she still loves him, and he feels encouraged enough to finish. Back in the 1820s, the three boats are separated by the currents and one is lost. The other two further resort to cannibalism to survive, with Pollard's cousin Henry Coffin sacrificing himself.

The white whale suddenly returns, and Chase gets into position for a final attack. The whale breaches for a moment, allowing Chase to observe a portion of his previously thrown harpoon still embedded above the whale's eye. Chase hesitates, and stares into the whale's left eye, as the whale stares back at Chase. After a moment of thought, Chase lowers his harpoon, deciding not to kill the creature. Following this encounter, the whale swims away peacefully, and is never seen again.

A passing ship rescues Pollard's boat, but Chase's boat continues to drift with no food or water. Finally, with the survivors on the verge of death, they reach land. The survivors are all brought back to Nantucket, where they finally reunite with their distraught families. The Nantucket ships' owners ask Pollard and Chase to cover up the story to protect the industry's reputation, but Chase, deciding he has had enough of their dishonesty and that he no longer cares about them, refuses to go along and resigns. Pollard reveals the truth in the inquiry, much to their anger.

Nickerson relates that a ship was sent to Henderson Island to rescue the surviving men there, Chase continued sailing the seas and became a merchant captain, which his wife had said earlier would not change her love for him, and Pollard led another expedition to find and kill the whale. However, he was never able to find the animal and the ship ran aground off the Hawaiian Islands and he was forced to retire. Melville departs to compose his novel, Moby-Dick, beginning by writing its first line: "Call me Ishmael".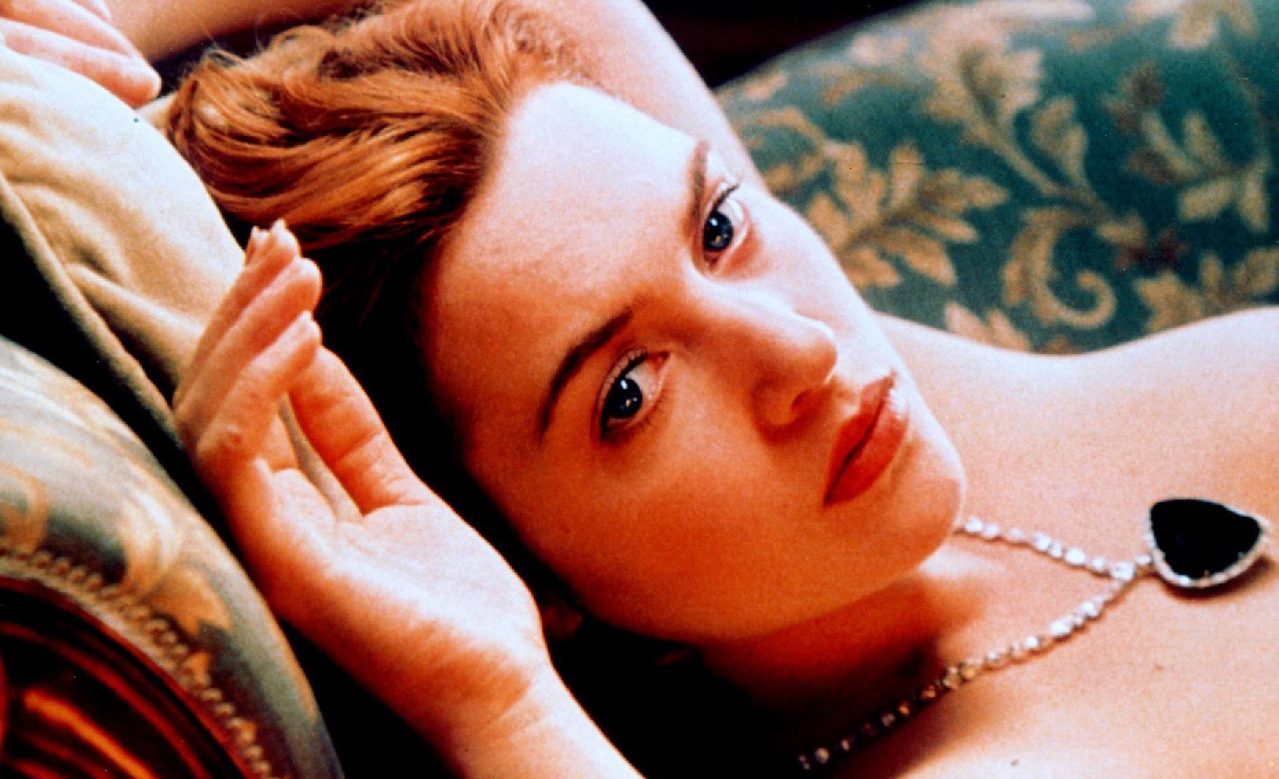 FICTIONAL DIAMOND - The Heart of the Ocean (also known as Le Cœur de la Mer) is the name of a fictional blue diamond featured prominently in the 1997 film Titanic. In the story, the diamond was originally owned by Louis XVI and cut into a heart shape after the French Revolution. In the film Caledon Hockley (Billy Zane), the wealthy son of a Pittsburgh steel tycoon, purchased the diamond for his fiancée Rose DeWitt Bukater (Kate Winslet) a week before they sailed on Titanic.
CAST

Chris Hemsworth as Owen Chase, the first mate
Benjamin Walker as Captain George Pollard Jr.
Cillian Murphy as Matthew Joy, the second mate
Tom Holland as Thomas Nickerson, the cabin boy
Brendan Gleeson as Old Thomas Nickerson
Ben Whishaw as Herman Melville
Michelle Fairley as Mrs. Nickerson
Gary Beadle as William Bond
Frank Dillane as Henry Coffin
Edward Ashley as Barzillai Ray
Charlotte Riley as Peggy Chase
Donald Sumpter as Paul Mason
Brooke Dimmock as Phoebe Chase
Jamie Sives as Isaac Cole
Joseph Mawle as Benjamin Lawrence
Paul Anderson as Caleb Chappel
Luca Tosi as William Wright
Sam Keeley as Ramsdell

PRODUCTION

Principal photography began in September 2013 in London and at Warner Bros. Studios, Leavesden in Hertfordshire, England. It was also shot on location on the island of La Gomera (plus some scenes on Lanzarote) in the Canary Islands, Spain. For the storm scenes, the production team built a water tank at Leavesden Studios, where a deck was built on top of a gimbal to mimic the pitch of a storm. To get the right effect, 500 gallons of icy water were poured from cannons.

During one point of filming, the cast and crew were forced to retreat to their hotel by a storm off the Canary Islands, which turned into a rare flash flood. The production shut down for a day and a half, expanding the shoot to 73 days, exactly as filmmakers expected.

In an interview on Jimmy Kimmel Live!, Hemsworth stated that to prepare for the role of starving sailors, the cast were on a diet of 500–600 calories a day to lose weight. Hemsworth also had to drop his weight from 215 to 175 pounds (97.5 to 79.3 kg) to play Owen, saying that In the Heart of the Sea is "physically and emotionally the hardest movie that I've been a part of. Losing the weight to this degree, I just never want to do it again, but it had such an emotional effect on us... in some small way, we felt like we were doing what these men went through justice."

The film was in development back in 2000, with Barry Levinson set to direct for Miramax Films.

Chris Hemsworth was cast to play the lead, Owen Chase, in June 2012. Tom Holland won the role of young Nickerson in April 2013. Cillian Murphy signed on as Matthew Joy in June. Before Benjamin Walker was set to play the Captain, other actors that were considered included Benedict Cumberbatch, Tom Hiddleston, and Henry Cavill.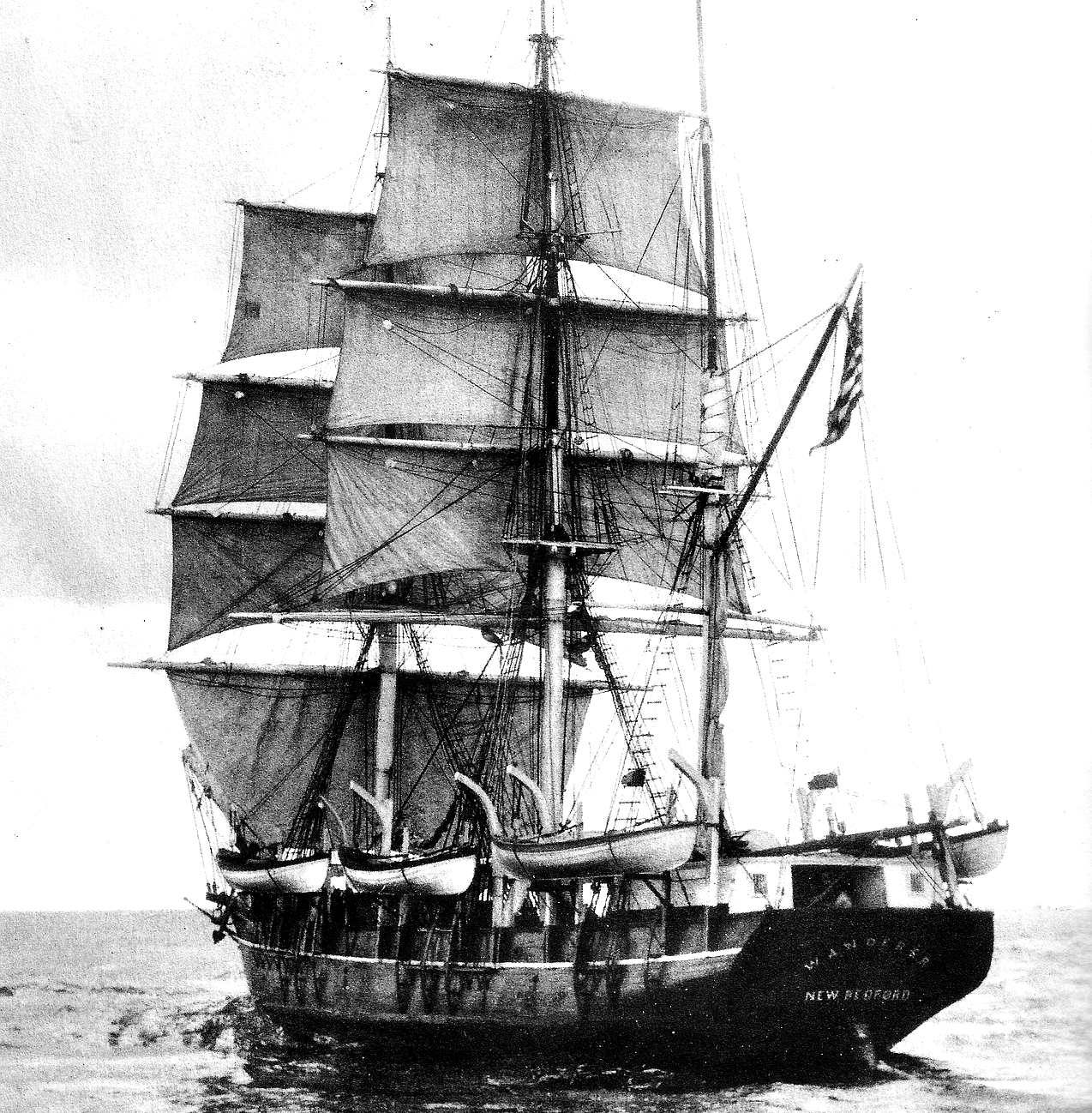 THE ESSEX - This three-masted ship was made from white oak, especially known for its strength, measuring 87 feet (26.5 metres) and just 239 tons displacement. There were 21 men on board, including first-time captain, George Pollard, Jr.

On the 20th November 1820, a huge male sperm whale was spotted close to the ship. It was estimated to be 85 feet long where a typical male was no bigger than 65 feet.

The whale may have thought that the ship was another whale invading its territory. Whatever its reason, the whale began speeding toward the Essex, ramming the port side. After passing under the ship, the animal resurfaced and appeared stunned. It then resumed its attack "with tenfold fury and vengeance," striking the bow and causing catastrophic damage before disappearing. The Essex capsized. Only two of the crew survived.

STATS

Directed by Ron Howard
Produced by Brian Grazer, Ron Howard, Will Ward, Joe Roth, Paula Weinstein
Screenplay by Charles Leavitt
Story by Charles Leavitt, Rick Jaffa, Amanda Silver

STARS
Chris Hemsworth
Benjamin Walker
Cillian Murphy
Tom Holland
Ben Whishaw
Brendan Gleeson

Music by Roque Baños
Cinematography Anthony Dod Mantle
Edited by Dan Hanley and Mike Hill

PRODUCTION COMPANIES
Village Roadshow Pictures
RatPac-Dune Entertainment
COTT Productions
Enelmar Productions A.I.E.
Roth Films
Spring Creek Pictures
Imagine Entertainment
Kia Jam
Distributed by Warner Bros. Pictures
Release date December 7, 2015 (New York City)
December 11, 2015 (United States)
Running time 122 minutes
Country United States, Spain
Languages English, Spanish
Budget $100 million
Box office $93.9 million
QUOTES
Owen Chase : It's a privilege to know the moment of one's death in advance - be able to prepare for it. Cursed to be so far from home - without a chance to say goodbye, without a chance to make peace; without a chance to settle scores. Then let us at least settle those between us, Captain.

George Pollard : Captain of what?

Owen Chase : The Essex was lost through no fault of yours. I was as much to blame for...

George Pollard : You are not the captain! But you were born to do this job. I was just born into it.

Owen Chase : What do we do, do you think, George? And what offense did we give God to upset him so?

George Pollard : The only creature to have offended God here is the whale.

Owen Chase : Not us? In our arrogance, our greed. Look were we find ourselves.

George Pollard : We are supreme creatures made in God's own likeness. Earthly kings, whose business it is to circumnavigate the planet bestowed to us. To bend nature to our will.

Owen Chase : You really feel like an earthly king after everything that we've been through? We're nothing. We're... we're specks. And dust.

George Pollard : We sail into the sun at dawn. If we are to die, then with God's grace, let us die as men.
Owen Coffin : [points his pistol at Owen] Say it! Say it! Say you're scared!

Owen Chase : I will not.

George Pollard : [upon meeting] "Chase." That's an off-island name, isn't it?

Owen Chase : Yes, it is. And very shortly we will be off-island for some time, and I'll be very much at home.

[calmly smiles]

Thomas Nickerson : My mother's buried up in Smith's hill. There's a stone for my father, too. He was lost at sea before I was born.

Owen Chase : Here, give me that.

[grabs a coil of rope]

Owen Chase : Well, this is your family now, boy. For better or for worse. worse, mostly.

Owen Chase : To return to port without a single barrel of oil would be a mistake, sir. And not behoove a man whose name is Pollard. Or Chase, for that matter. And the best thing for both of us would be to work all hours Gods sends us, fill this ship with oil and be home inside a year and rid of one another as quickly as possible. Trust me, I am every bit as desirous of that as you.

Owen Chase : [being pulled by a whale] You're on your first Nantucket sleigh ride, boy!

Owen Coffin : Oh my God! Whoo!

Owen Chase : Benjamin, what are you doing?

Benjamin Lawrence : He's dead. Putting him overboard, sir.

Owen Chase : Look at me. Look at me, Benjamin. No right-minded sailor discards what might yet save him.

Peggy Chase : [when Owen returns alive] Oh my God... Oh my God...

Owen Chase : I promised you, didn't I?
In 1819, the 238-ton Essex set sail from Nantucket on a routine voyage to hunt whales. Fifteen months later the Essex was rammed and sunk by an enraged sperm whale. Fearing cannibals on the islands to the west, the 20-man crew set out in three small boats for South America, almost 3,000 miles away. Three months later, only eight were left alive. This book shares a fantastic saga of survival and adventure, steeped in the lore of the whaling tradition, with deep resonance in literature and American history, and in the life of the Nantucket community.
.