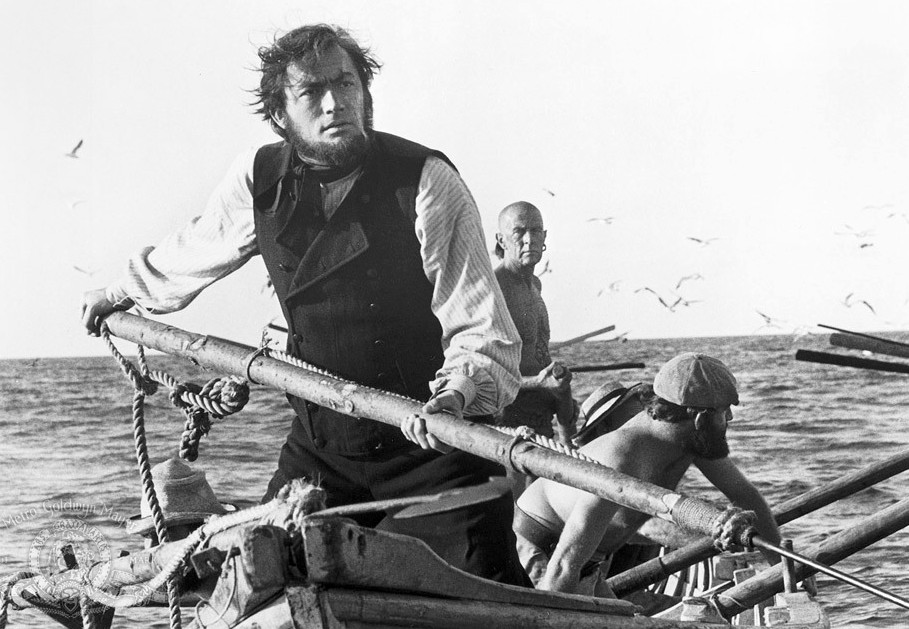 Gregory Peck as the obsessed Captain Ahab, in search of the giant white sperm whale. Even today, this is by far the best telling of the story due to Gregory Peck's splendid performance. The model whale does some ridiculous flips and the film format and quality makes for difficult viewing. Modern CGI whales are not much better. We can only imagine what a really good remake might achieve - if only an actor can be found with Peck's forceful delivery.
MOBY DICK 1956 FILM - WARNER BROTHERS & MGM
Moby Dick is a 1956 film adaptation of Herman Melville's 1851 novel Moby-Dick. It was directed by John Huston with a screenplay by Huston and Ray Bradbury. The film starred Gregory Peck, Richard Basehart, and Leo Genn.
The movie had the ninth highest box office of the year in North America, but cost $4.5 million to make (more than double the original budget) so it lost money, and was considered a commercial disappointment. Peck also almost drowned twice during filming in stormy weather off the sea coasts of Ireland and the Canary Islands and several other performers and crew members suffered injuries.
John Huston was named best director of the year by the New York Film Critics Circle and the National Board of Review for Moby Dick, but did not receive a nomination for the Academy Award for Best Director.

In order to create a visual effect reminiscent of old whaling prints, a black and white print was superimposed on a color print.
The 1956 production builds on the 1930 production, returning to a more faithful telling of Herman Melville's book.
Graphic novel adaptations, DVDs and Blu-ray video films are available of this classic.

THE PLOT

Set in 19th-century New England, the story follows the whaling ship Pequod and its crew. Leading them is Captain Ahab, who was almost killed in an encounter with the "great white whale", Moby Dick, which bit off much of his left leg. Now he is out for revenge. With the crew that has joined him, Ahab is out to destroy the huge sperm whale sea mammal, but his obsession with vengeance is so great that he cannot turn back, eventually leading to the death of Ahab and all of his crew, save his newest able seaman, Ishmael.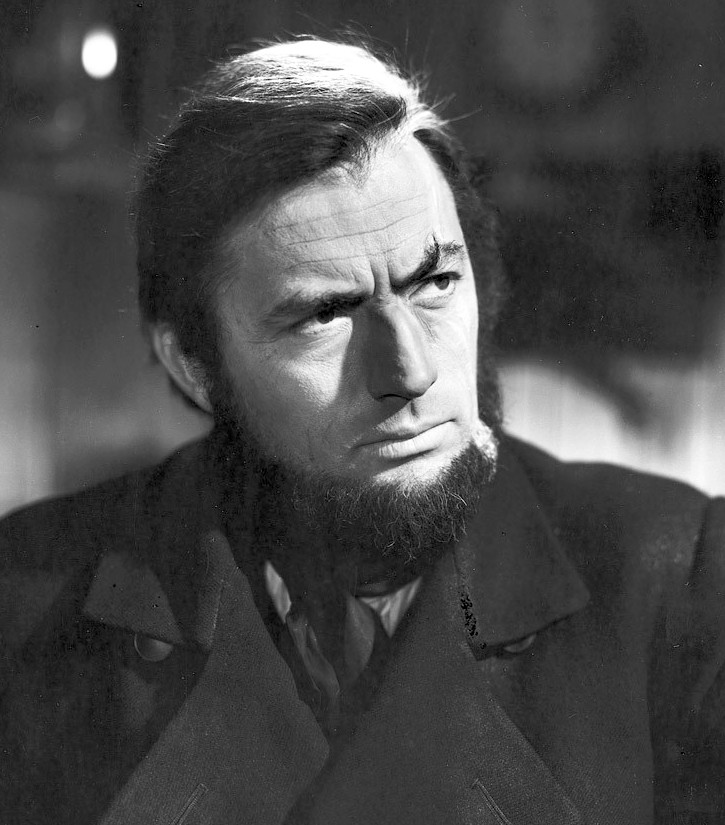 PRODUCTION

During a meeting to discuss the screenplay, Ray Bradbury informed John Huston that regarding Melville's novel, he had "never been able to read the damned thing". According to the biography The Bradbury Chronicles, there was much tension and anger between the two men during the making of the film, allegedly due to Huston's bullying attitude and attempts to tell Bradbury how to do his job, despite Bradbury being an accomplished writer. Bradbury's novel Green Shadows, White Whale includes a fictionalized version of his writing the screenplay with John Huston in Ireland. Bradbury's short story "Banshee" is another fictionalized account of what it was like to work with Huston on this film. In the television adaptation of the story for The Ray Bradbury Theater the Huston character was played by Peter O'Toole and the Bradbury surrogate by Charles Martin Smith.

The film was bankrolled by brothers Walter, Harold, and Marvin Mirisch, who financed Huston's Moulin Rouge. The Mirisches made a deal with Warner Bros. in order to release the film. Under the agreement, WB would distribute Moby Dick for seven years, after which all rights would revert to the Mirisch brothers' company, Moulin Productions.

The film began shooting in Wales at Fishguard and Ceibwr Bay, Fishguard at Huston's request. Parts of the movie were shot at the sea in front of Caniçal, a traditional whaling parish in Madeira Islands, Portugal, with real action of whaling, done by whalers of Madeira Island. It was also filmed in Las Canteras beach, Las Palmas de Gran Canaria, Canary Islands, Spain. Captain Alan Villiers commanded the ship for the film.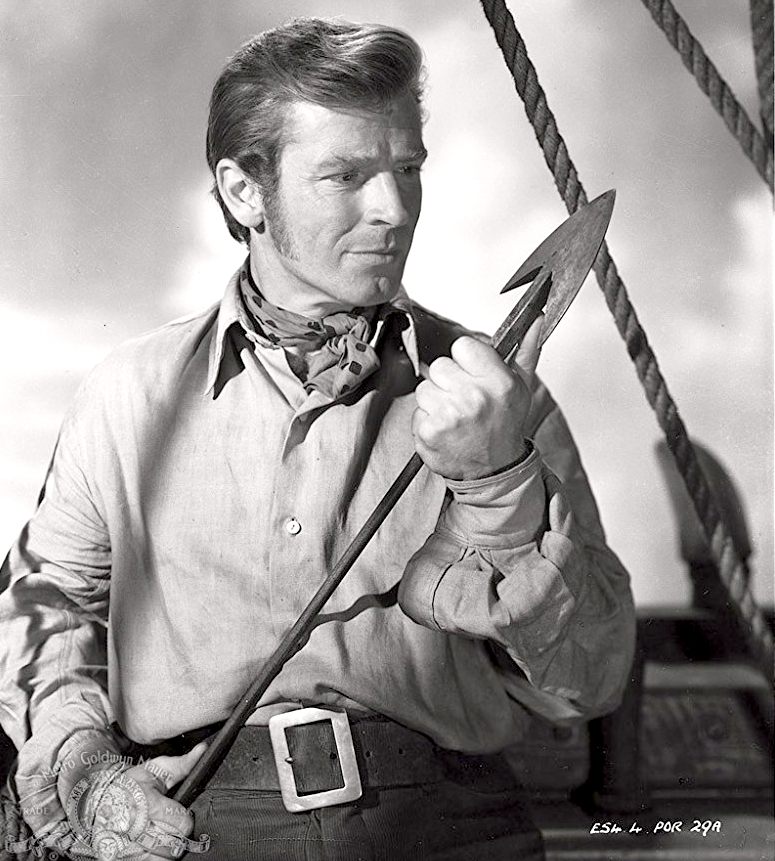 Many exterior scenes set in New Bedford were shot on location in Youghal, Co. Cork, Ireland. The town has a public house, originally called Linehan's and at that time owned by Paddy Linehan, whose exterior appears in the movie. It was renamed Moby Dick's shortly after filming by Linehan. It is still owned and run by the Linehan family and boasts a fine collection of photographs taken of the cast and crew during the making of the film. While there, John Huston used the bar as his headquarters to plan each day's filming. The town's harbor basin, in front of Moby Dick's bar, was used to stand in as New Bedford's harbor, and some local people appear as extras in the ship's departure scene. Youghal's nineteenth century lighthouse also appears in a scene of the Pequod putting to sea (at sunset) on her fateful voyage.

A myth that was put to rest in cinematographer Oswald Morris' autobiography, Huston, We Have a Problem, is that no full-length whale models were ever built for the production. Previous accounts have claimed that as many as three 60-foot rubber "white whales" were lost at sea during filming, making them "navigational hazards". In fact the titular whale shown in the film was constructed by Dunlop in Stoke-on-Trent, England.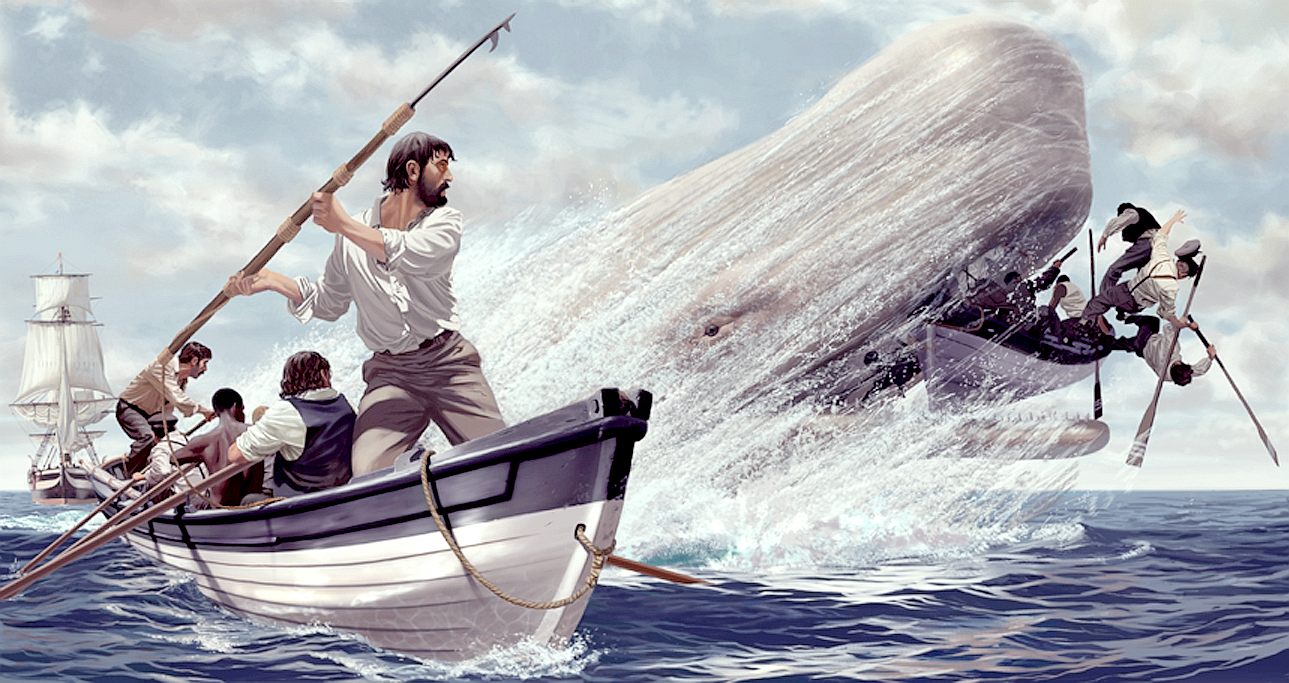 Moby Dick was 75 ft long and weighed 12 tons, and required 80 drums of compressed air and a hydraulic system in order to remain afloat and operational. However the artificial whale came loose from its tow-line and drifted away in a fog. Peck confirmed in 1995 that he was aboard the prop. According to Morris, after the prop was lost the Pequod was followed by a barge with various whale parts (hump, back, fin, tail). 90% of the shots of the white whale are various size miniatures filmed in a water tank in Shepperton Studios in Surrey, near London.

Whales and longboat models were built by a special effects man, August Lohman, working in conjunction with art director Stephen Grimes. Studio shots also included a life-size Moby jaw and head - with working eyes. The head apparatus which could move like a rocking horse was employed when actors were in the water with the whale. Gregory Peck's last speech is delivered in the studio while riding the white whale's hump (a hole was drilled in the side of the whale so Peck could conceal his real leg).

The Pequod was portrayed by, appropriately, the Moby Dick. Built in England in 1887 as the Ryelands, the ship came into the hands of the film industry in the 50s, and was also used in Treasure Island. It was destroyed by fire in Morecambe, England in 1972. The schooners used were Harvest King and James Postlethwaite, both from Arklow, Ireland.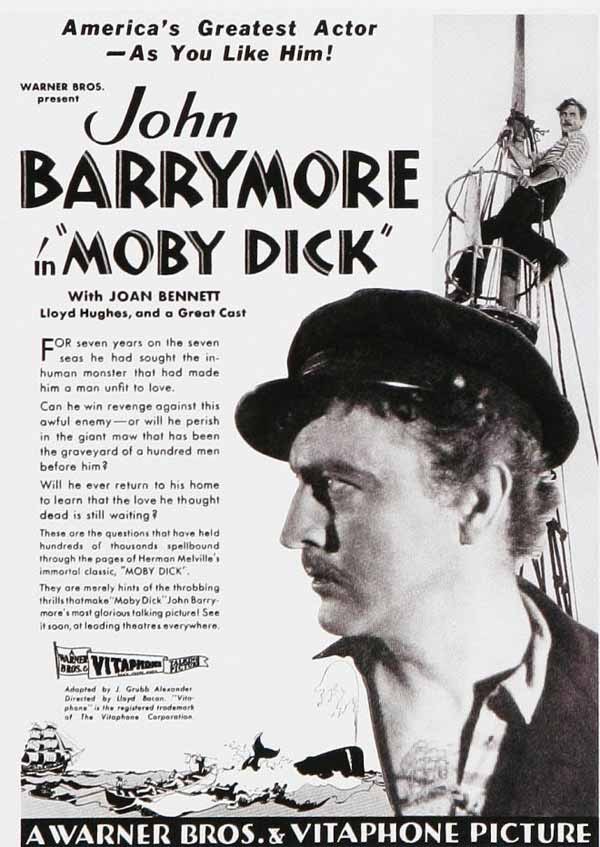 John Barrymore as the obsessed Captain Ahab, in search of the giant white sperm whale. This is a poster for the 1930 film by Warner Brothers & Vitaphone.
The film went overbudget, from $2 million to around $4.4 million, which crippled Moulin Productions; Moby Dick was ultimately sold to United Artists in order to recoup some of the Mirisch brothers' debt (Warner Bros. still distributed the film, corresponding to their original licensing agreement; When the agreement ended, United Artists took over the film's distribution rights. After UA was acquired by MGM in 1981, the latter studio assumed distribution and currently holds the film's copyright). Moby Dick did not recoup its budget upon its initial release.

Peck and Huston intended to shoot Herman Melville's Typee in 1957, but the funding fell through. Not long after, the two had a falling-out. According to one biography, Peck discovered to his disappointment that he had not been Huston's choice for Ahab, but in fact was thrust upon the director by the Mirisch brothers to secure financing. Peck felt Huston had deceived him into taking a part for which Peck felt he was ill-suited. Years later, the actor tried to patch up his differences with the director, but Huston, quoted in Lawrence Grobel's biography The Hustons, rebuked Peck ("It was too late to start over", said Huston) and the two never spoke to each other again. Nevertheless, Huston's daughter Anjelica confirmed in a 2003 Larry King Live interview that her father had "adored" Peck.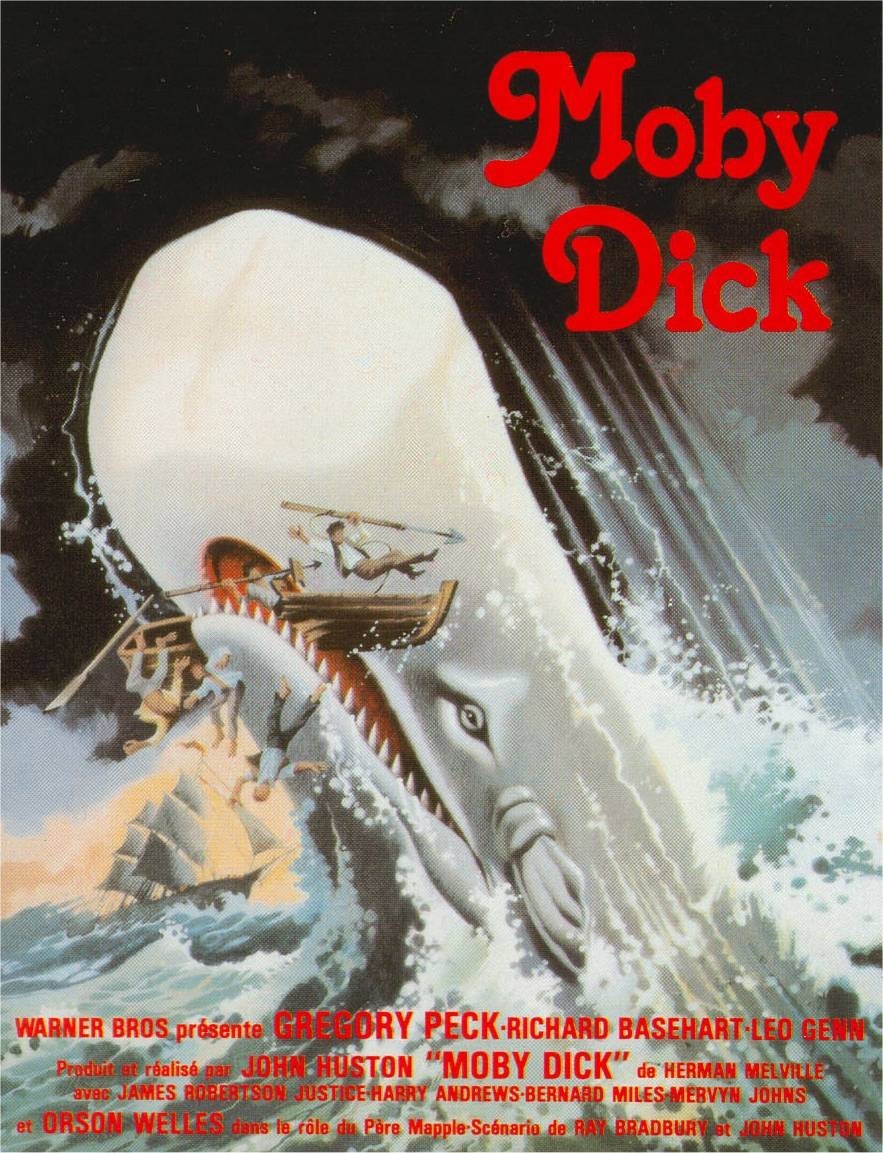 In the documentary accompanying the DVD marking the 30th anniversary of the film Jaws, director Steven Spielberg states his original intention had been to introduce the Ahab-like character Quint (Robert Shaw), by showing him watching the 1956 version of the film and laughing at the inaccuracies therein. However, permission to use footage of the original film was denied by Gregory Peck as he was uncomfortable with his performance.

At the age of four, Anjelica Huston met Peck dressed as Ahab when she visited the set of her father's film. Decades later, she and Peck would meet again and become close friends with each other until the latter's death.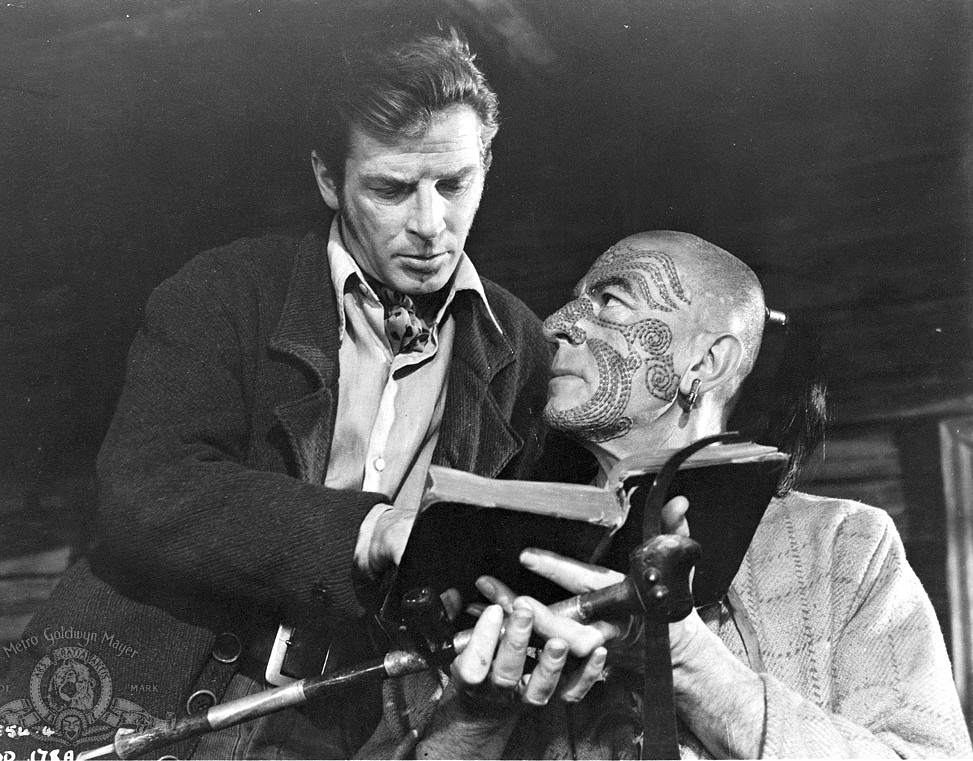 CAST

Gregory Peck as Captain Ahab
Richard Basehart as Ishmael
Leo Genn as Starbuck
James Robertson Justice as Captain Boomer
Harry Andrews as Stubb
Bernard Miles as the Manxman
Noel Purcell as Ship's Carpenter
Edric Connor as Daggoo
Mervyn Johns as Peleg
Joseph Tomelty as Peter Coffin
Francis de Wolff as Captain Gardiner
Philip Stainton as Bildad
Royal Dano as Elijah
Seamus Kelly as Flask
Friedrich von Ledebur as Queequeg
Orson Welles as Father Mapple
Peck was initially surprised to be cast as Ahab (part of the studio's agreement to fund the film was that Huston use a "name" actor as Ahab). Peck later commented that he felt Huston himself should have played Ahab. Huston had long wanted to make a film of Moby-Dick, and had intended to cast his own father, actor Walter Huston as Ahab, but he had died in 1950. Peck went on to play the role of Father Mapple in the 1998 television miniseries adaptation of Melville's novel, with Patrick Stewart as Ahab.

Welles later used the salary from his cameo to fund his own stage production of Moby Dick, in which Rod Steiger played Captain Ahab.

Gregory Peck, comparing his performances in this film and the 1998 Moby Dick miniseries, said he liked the miniseries better because it was more faithful to the novel.

In 2003 Barry Monush wrote, "There was, and continues to be, controversy over his casting as Ahab in Moby Dick." Upon opening, Variety said: "Peck often seems understated and much too gentlemanly for a man supposedly consumed by insane fury." Bosley Crowther's review asserted that Peck "holds the character's burning passions behind a usually mask-like face. We could do with a little more tempest, a little more Joshua in the role.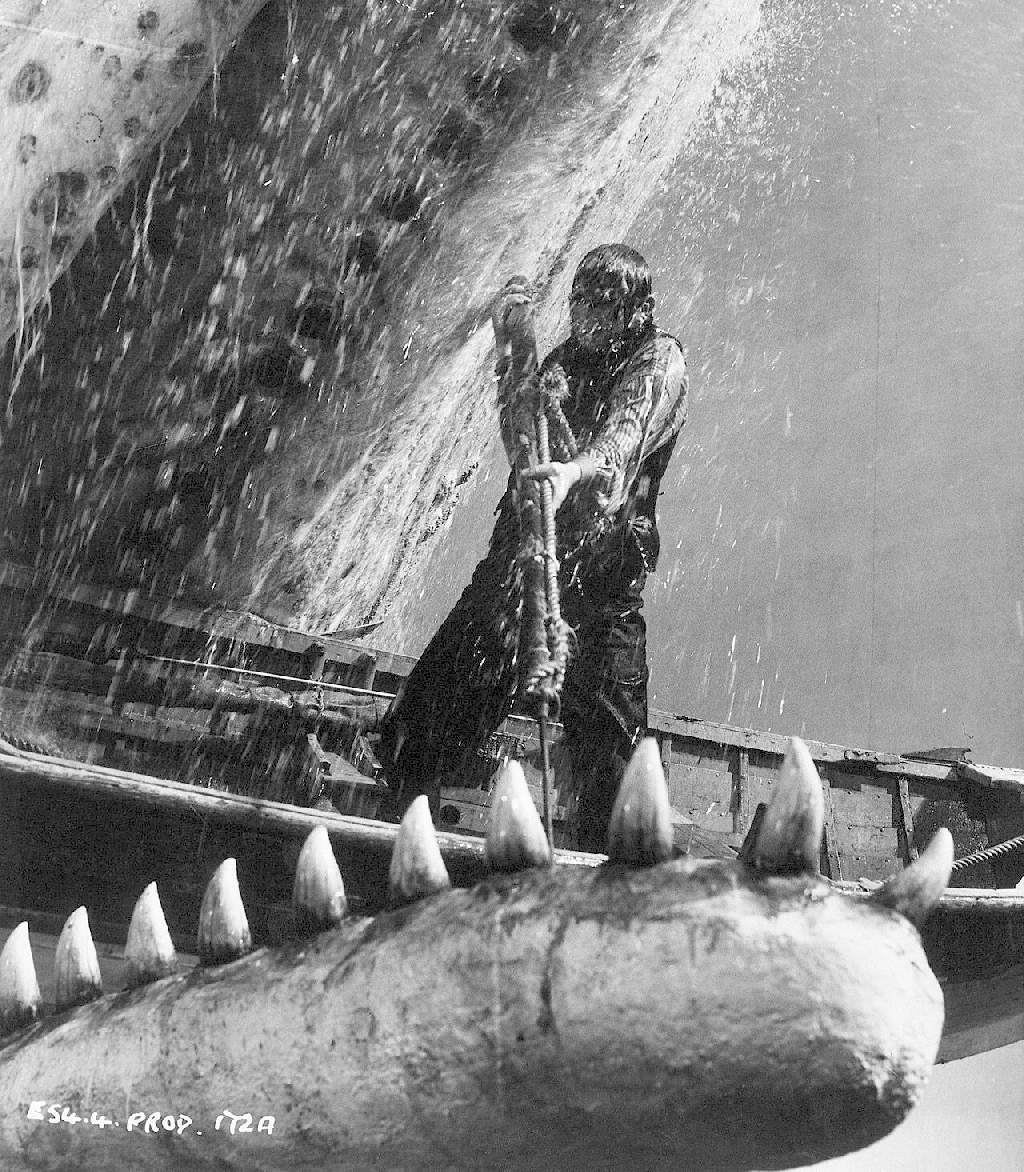 Peck spouts fire from his nostrils only when he has at the whale." However, The Hollywood Reporter argued, "Peck plays it...in a brooding, smoldering vein, but none the less intensely and dynamically." In modern times, critics have said Peck is: "often mesmerizing" (Barry Monush); "stoic" and "more than adequate" (Brendon Hanley of AllMovie); " "lending a deranged dignity" to the role (Leonard Maltin); "not half as bad as some alleged, and actually suggesting the ingrained, heroic misanthropy" (David Thompson); a "lightweight Ahab"(Timeout); "neither pitiable or indomitable"; and never "vengeance incarnate" (David Shipman); "miscast, completing lacking the required demonic presence" (Adrian Turner of RadioTimes);" and, "miscast" (TV Guide).
Huston always said he thought "Peck conveyed the exact quality he had wanted for the obsessed seaman." Peck himself later said "I wasn't mad enough, not crazy enough, not obsessive enough – I should have done more. At the time, I didn't have more in me." He also noted he thought he "played it too much for the richness of Melville's prose, too vocal a performance" and should have played it with a cracked voice as if his vocal cords were gone.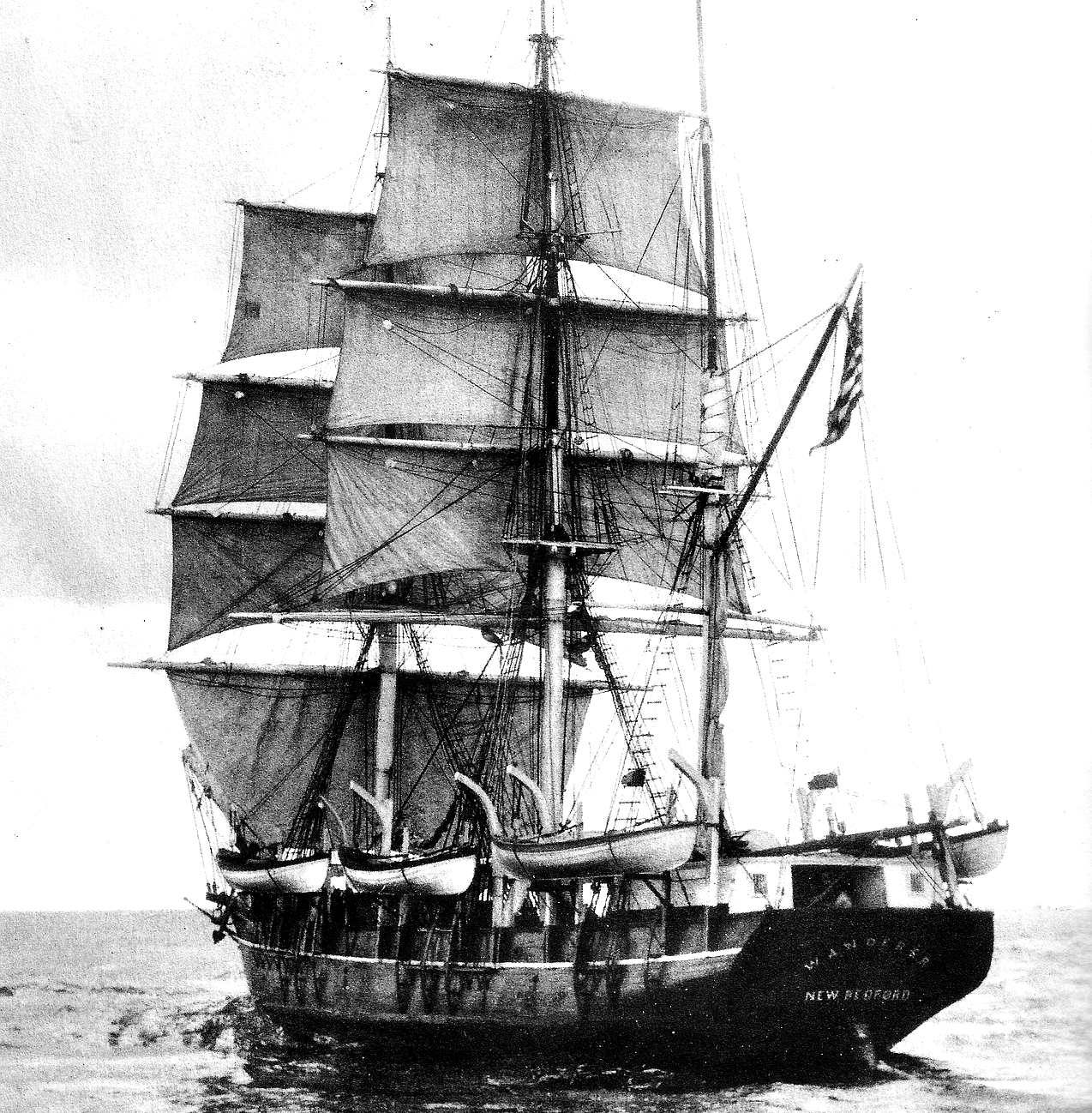 THE ESSEX - This three-masted ship was made from white oak, especially known for its strength, measuring 87 feet (26.5 metres) and just 239 tons displacement. There were 21 men on board, including first-time captain, George Pollard, Jr.

On the 20th November 1820, a huge male sperm whale was spotted close to the ship. It was estimated to be 85 feet long where a typical male was no bigger than 65 feet.

The whale may have thought that the ship was another whale invading its territory. Whatever its reason, the whale began speeding toward the Essex, ramming the port side. After passing under the ship, the animal resurfaced and appeared stunned. It then resumed its attack "with tenfold fury and vengeance," striking the bow and causing catastrophic damage before disappearing.

The Essex capsized. The crew rowed for land, many of whom were cannnibalized by the others over an 89 day voyage. Only two survived.

First Mate Owen Chase wrote: 'Narrative of the Most Extraordinary and Distressing Shipwreck of the Whale-ship Essex' in 1821. Thomas Nickerson, a cabin boy on the Essex, later wrote his account of the sinking and rescue, but the notebook was lost and not published until 1984. Chase's work inspired Herman Melville's Moby Dick, published in 1851.

RECEPTION

The film has an 84% rating on Rotten Tomatoes, with the consensus that "It may favor spectacle in place of the deeper themes in Herman Melville's novel, but John Huston's Moby Dick still makes for a grand movie adventure." Bosley Crowther of The New York Times called it "a rolling and thundering color film that is herewith devoutly recommended as one of the great motion pictures of our times ... Space does not possibly permit us to cite all the things about this film that are brilliantly done or developed, from the strange, subdued color scheme employed to the uncommon faithfulness to details of whaling that are observed."

Variety wrote, "Essentially it is a 'chase' picture with all the inherent interest thereby implied and yet not escaping the quality of sameness and repetition which often dulls the chase formula." The review also found that "Peck often seems understated and much too gentlemanly for a man supposedly consumed by insane fury." Edwin Schallert of the Los Angeles Times found the film to be "something less than really great," although it "has great moments, and is amazingly individual in its art, various phases of its drama, and notably in characters."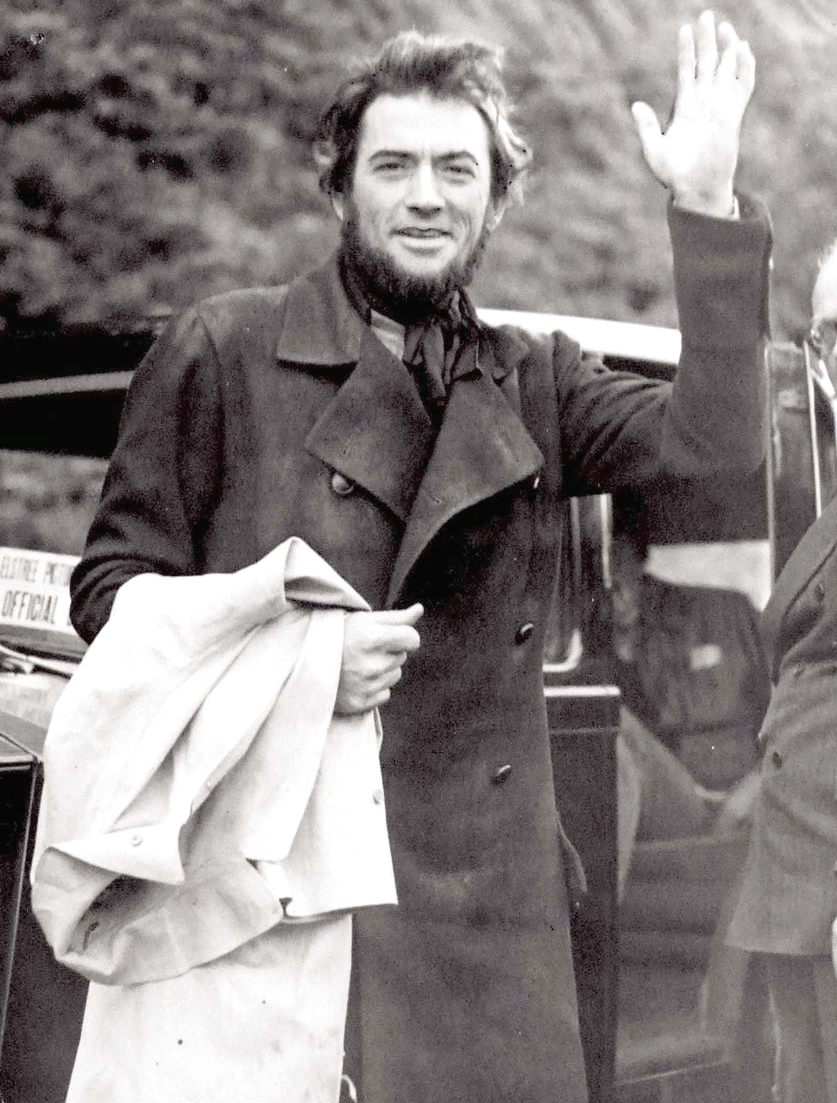 Richard L. Coe of The Washington Post called it "one of the rare ones, the sort of picture people will remember and rank as one of the screen's classics ... Not only is the film immensely exciting in purely screen terms, it is a haunting philosophical study." Harrison's Reports praised the "excellence of the production values" but noted, "It is not until the last few reels, where a violent battle to the death takes place between the whale and the crew, that the action becomes highly exciting. This fierce combat with the whale has been staged in thrilling fashion and is the highlight of the film, but it is not enough to compensate for the lack of excitement in the preceding reels."

John McCarten of The New Yorker called it "a fine, big, elementary job that misses the mystical Melville by several nautical miles but affords us an almost completely satisfactory tour of the bounding main." The Monthly Film Bulletin wrote, "The physical excitements of the adventure story which is the superstructure of Melville's book are all admirably done. Where Huston has failed is in suggesting the mysticism of the book and the ominous influence of Moby Dick himself. The great white whale is no 'portentous and mysterious monster ... the gliding great demon of the seas of life'; he is often, only too clearly made of plastic and electronically controlled. Without this presence and motivation much of the story loses its significance.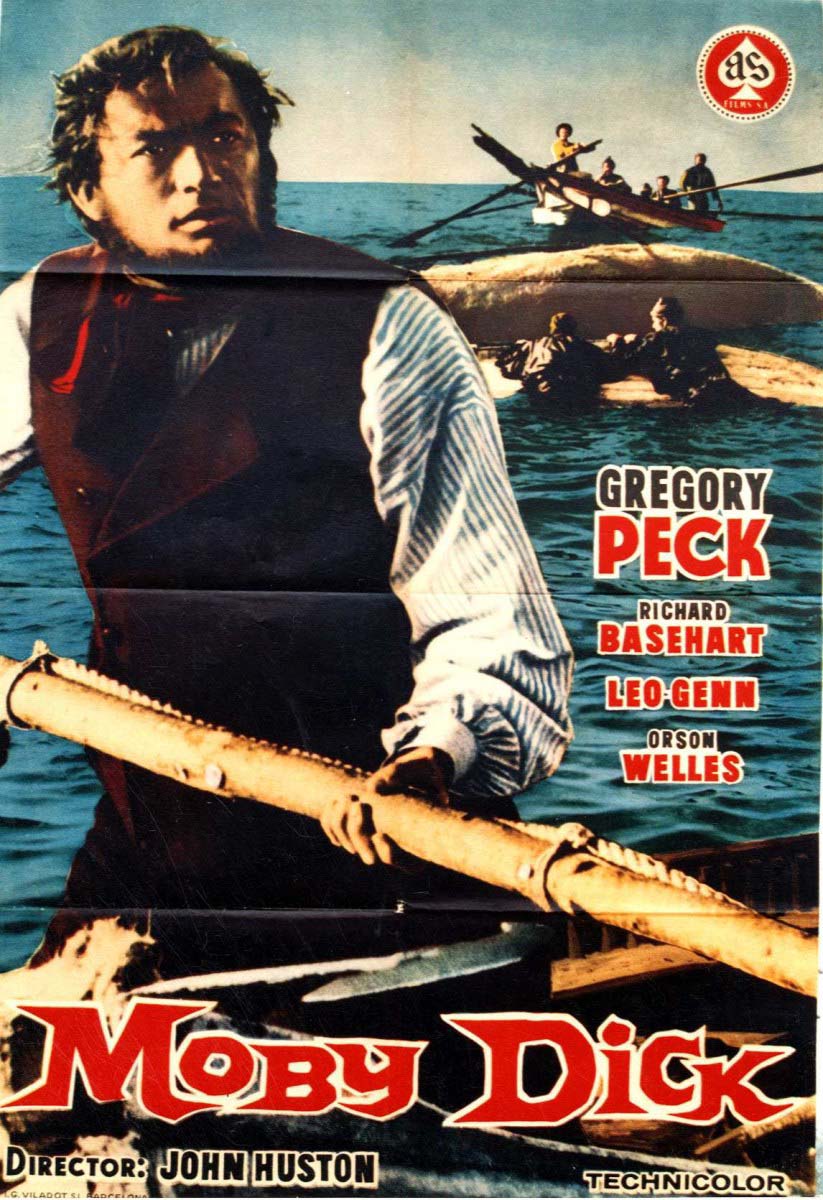 Assessments of Moby Dick have also been diverse. In 1956 Bosley Crowther wrote, the movie is a "rolling and thundering color film that is herewith devotedly recommended as one of the great motion pictures of our times," "the drama is set up on strong, realistic incidents," "space does not possibly permit us to cite all the things about this film that are brilliantly done, from the strange subdued color scheme employed to the uncommon faithfulness to the details of whaling that are observed," and "it cannot be done better, more beautifully or excitingly."
In the same year, Variety, opined the movie is "more interesting than exciting" and "does not escape the repetitiousness that often dulls chase movies." In recent years, most reviews are favorable [bh] with TV Guide asserting it is "one of most historically authentic, visually stunning and powerful adventures ever made," but some reviews are negative, with Adrian Turner of Radio Times positing, it "has some wonderful scenes but must be counted as a noble failure. The great whale always looks phony."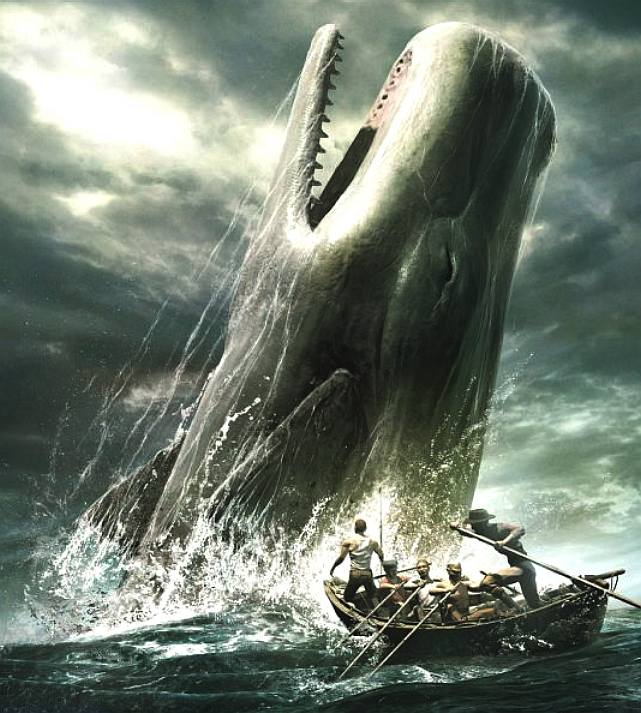 SCENE

DESCRIPTION

LOCATION

Chapter 1

Arctic Melt (Prologue)

580 W, 750 N

Chapter 2

510 30'N, 00

Chapter 3

420 N,

880 W

Chapter 4

330 S, 1510 E

Chapter 5

270 30'S, 1530 E

Chapter 6

330 20'S, 1520 E

Chapter 7

500 N, 1700

W

Chapter 8

200 N, 1600 W

Chapter 9

420 N, 700 W

Chapter 10

330 N, 1290 E

Chapter 11

330 N, 1290 E

Chapter 12

330 N, 1290 E

Chapter 13

200 N, 1600 W

Chapter 14

130 S, 1310 E – 350 S, 1380 E

Chapter 15

200 N, 1600 W

Chapter 16

240 N, 1410 E

Chapter 17

240 N, 1400 E

Chapter 18

40N0, 1550 W (Whale Trust Maui)

Chapter 19

Sky High (deal)

380 S, 1450 E

Chapter 20

200 N, 1600 E (middle of Pacific)

Chapter 21

200 N, 1300 E (off Philippines)

Chapter 22

Open Season (water)

330 N, 1290 E

Chapter 23

470 N, 70 E

Chapter 24

250 N, 1250 E

Chapter 25

200 N, 1600 W

Chapter 26

140 N, 1800 E

Chapter 27

150 N, 1550 E

Chapter 28

100 N, 1650 E

Chapter 29

100 N, 1650 E

Chapter 30

100 N, 1650

E

Chapter 31

100 N, 1650 E

Chapter 32

100 N, 1650 E

Chapter 33

150 S, 1550 E

Chapter 34

150 S, 1570 E

Chapter 35

230 S, 1550 E

Chapter 36

20 S, 1600 E

Chapter 37

20 S, 1600 E

Chapter 38

20 S, 1600 E

Chapter 39

170 S, 1780E

Chapter 40

200 S, 1520 E

Chapter 41

350 S, 1510 E

Chapter 42

Chapter 43

250 S, 1530 E

Chapter 44

Sweet Sorrow (epilogue)

250 S, 1530 E
GRAPHIC NOVEL
The graphic novel translation of Kulo Luna, omits many of the above chapters entirely, and condenses others, aiming for a lively visual read.
SCENE

DESCRIPTION

-

-

Scene 1

Climate Change (optional)

1st Chapter

Scene 2

Scene 3

Scene 4

Scene 5

-

-

-

Scene 6

2nd Chapter

Scene 7

Scene 8

-

-

-

Scene 9

3rd Chapter

Scene 10

Scene 11

Scene 12

-

-

-

Scene 13

4th Chapter

Scene 14

Scene 15

Scene 16

Scene 17

-

-

-

Scene 18

5th Chapter

Scene 19

Scene 20

Scene 21

Scene 22

Breach of Contract (optional)

Scene 23

Scene 24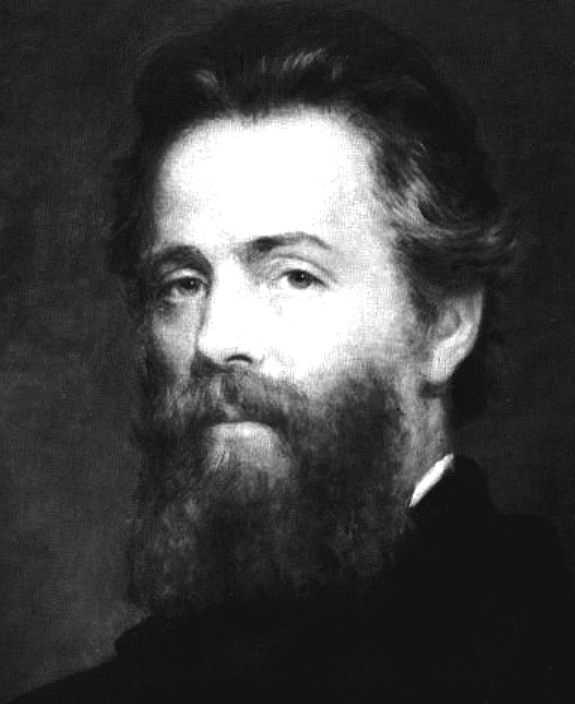 Herman Melville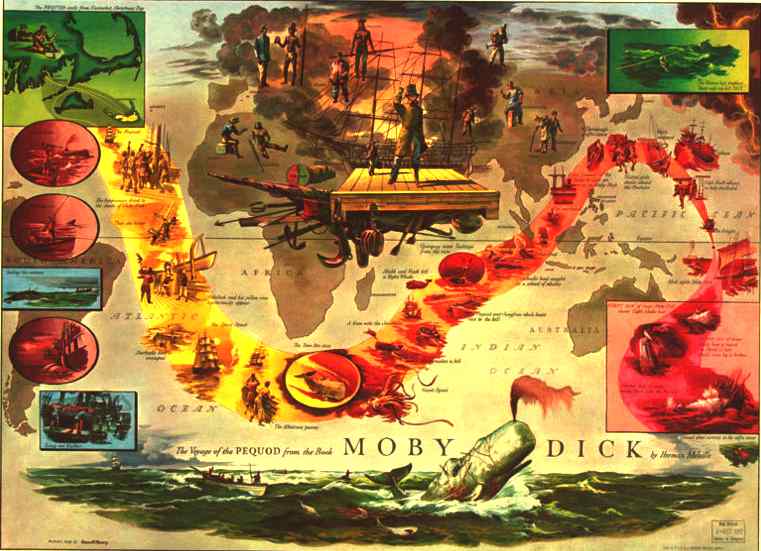 Map of the voyage of the Pequod, during Captain Ahab's obsessive chase around the world.
Please use our A-Z INDEX to navigate this site