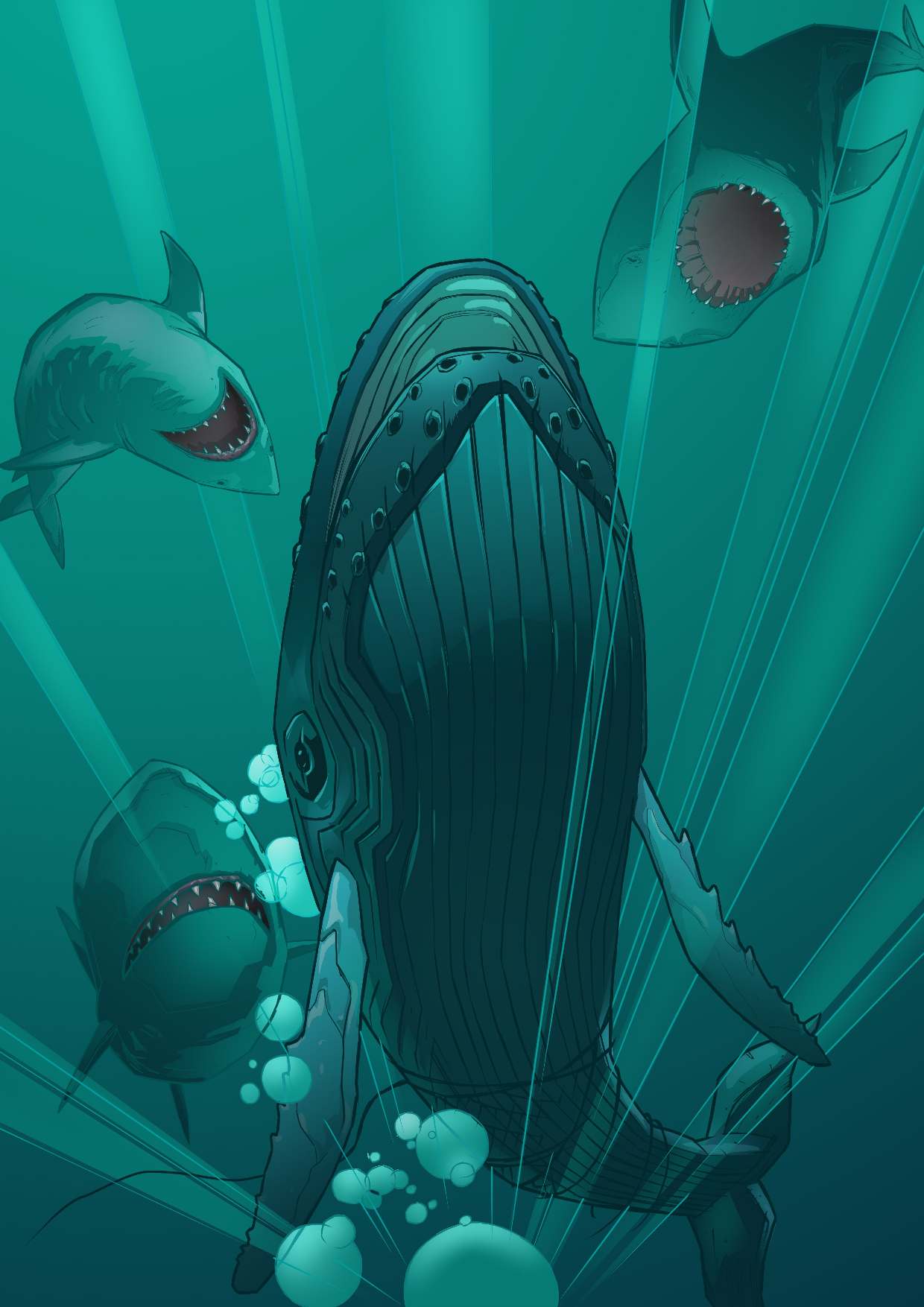 The adventures of John Storm and the solar powered ship - Elizabeth Swann. John Storm is a tough ocean adventurer and conservation advocate. During a race around the world, news of the sinking of a pirate whaling ship reaches John Storm and his mate Dan Hook. They decide to abandon the race and try and save the whale that sank the pirate ship, where it was wounded in the skirmish. When they find the whale, it is trapped in discarded fishing gear and surrounded by hungry sharks.
Abdullah Amir - Skipper Khufu Kraft
Acid oceans -
Aden - Bunkering hydrogen challenge, Jules Verne
Aleutian Islands - Bering Sea, Arctic Circle humpback whale location
Arctic icebergs and global warming
Ark, The - DNA collection of life on earth
Around the World in 80 Days - Jules Verne's classic, history of adaptations to film and TV series
Art Competition - Application Form (Closed)
- Big Ocean awareness art competition 2020 for colleges and universities
Art Contests A to Z index and links
Artists -
Bat Cave - A workshop location near Nelson's Cove, Australia
Ben Jackman - Six Pack skipper
Billy Perrin - Cetacean migration expert at NOAA
Cape York - Jules Verne hydrogen challenge
Captain Nemo - The autonomous navigation system and ships computers
Censorship - Film rating guidance
Charley Temple - Camerawoman
Children's - Illustrated story book
Cleaner Ocean Foundation Ltd - is a not for profit company with charitable objects
Cleopatra The Mummy - John Storm investigates sunken Alexandria in the Mediterranean Sea
Colombo - Jules Verne hydrogen challenge
Colourists
Compass, The Holy - Cure for cancer, world peace, the quest for the Cup of Christ
Contacts - Solar Studios
Copyright assertion - Copyright, Designs & Patent Act 1988
Covid 19 - Coronavirus pandemic SARS (severe acute respiratory syndrome)
Danny Hawk - Electronics wizard
Darwin - Jules Verne hydrogen challenge
Darwin to Adelaide - World Solar Challenge, trans-Australia car race
DC - Detective Comics adaptation featuring Batman & Robin against a large Moby Dick boat.
Directors -
Disney - Moby Dick, Scrooge Mc Duck and Donald
Elizabeth Swann - 1:20 scale special effects model and exhibition showpiece
Essex, The - Sinking in 1820 by giant sperm whale's repeated ramming - In The Heart Of The Sea film 2015
Fiji - Jules Verne hydrogen challenge
Fraser Island - Hervey Bay, Australia
Galapagos Islands - Jules Verne hydrogen challenge
George Franks - Family solicitor
Gibraltar - Jules Verne hydrogen challenge
Gladis Killer Whale - Gang of Orcas attack yachts in Strait of Gibraltar, The Independent 27 May 2023
Hal - The computer program that operates the Elizabeth Swann, after '2001 Space Odyssey '
Hope - for clean seas and healthy marine life
Illustrators -
Imaginers - Artists who turn ideas into graphic novels or animators
In The Heart Of The Sea - Book by Nathaniel Philbrick 2000 Viking Press and Penguin
In The Heart Of The Sea - Film of the Essex sinking starring Chris Hemsworth 2015
Inkers
International Whaling Commission - IWC
Jakarta - Jules Verne hydrogen challenge
Jameson Hunter Ltd - is a trading company dedicated to donating profits to worthy causes
Jaws - 1975 blockbuster motion picture: Film plot, Producers, Theme music, Bruce, Steven Spielberg,
- Peter Benchley, Roy Schieder, Susan Backlinie, Richard Dreyfuss, Lorraine Gray, Robert Shaw
- Ellen Brody, Murray Hamilton
Jaws - Graphic novel adaptation of Peter Benchley's novel about a great white shark by Marvel
Jean Bardot - Skipper of the Sunriser
Jill Bird - News reader for the BBC
Johnny Storm - Adventurous conservationist
Jonah - Japanese pirate whaling boat
Jules Verne - Author of Around the World in 80 Days
Khufu Kraft - On of the Six-Pack solar powered boats
Kulo Luna - A giant humpback whale
Kuna - Daughter of Kulo Luna, a baby calf
Lars Johanssen - Skipper Photon Planet
Marvel - Moby Dick, Deadpool Moby Dick
Medical SOS - Kulo Luna needs medical attention
Moby Dick - Herman Melville's book about Captain Ahab's hunt for a giant white sperm whale
Moby Dick - 2011 TV mini-series by Tele München Gruppe, starring William Hurt
Moby Dick - Asylum production, 2010 modern version of where a monster whale sinks a battleship
Moby Dick - American Zoetrope & Nine Network Australia 1998 TV mini series with Patrick Stewart
Moby Dick - Warner Brothers & MGM's 1956 film starring Gregory Peck as Captain Ahab
Moby Dick - Warner Brothers & Vitaphone's 1930 film starring John Barrymore as Captain Ahab
Moby Dick - The Sea Beast 1926 Warner Bros movie starring John Barrymore as Captain Ahab
Mocha Dick - The real giant sperm whale that inspired Herman Melville's Moby Dick, killed 1838
Naples - Jules Verne hydrogen challenge
Not for profit - Some charities cannot be registered due to multiple activities: climate, pollution, etc.
Ocean awareness
Ocean Shepherd - An anti-whaling conservationist's/activist vessel
Operation Neptune - The Lost Kingdom of Atlantis (Screenplay)
Pacific Ocean
Palermo - Jules Verne hydrogen challenge
Panama Canal - Jules Verne hydrogen challenge
Peter Shaw - A skilled pilot who goes where others fear
Photon Planet - solar powered trimaran
PlanetSolar Turanor - 1st solar powered circumnavigation 2012, Immo Stroeher & Raphaël Domjan
Plastic - Island - Oceans, seas, pollution
Pirates
Port Moresby - Jules Verne hydrogen challenge
Port Said - Jules Verne hydrogen challenge
Producers
Queequeg
Rash Move - Emotional rescue mission to save wounded humpback whale
Sequels - Cleopatra: The Mummy - Treasure Island
Scripts - A to Z of the draft Kulo-Luna script, How long?
Sharks - John Storm save the wounded humpback whale from attacks
Shui Razor - Pirate whaler
Sick Whale - Kulo Luna is not well
Siku - Illustrator and imagineer
Six Pack - the 6 entries in the WZCC (World Zero Carbon Challenge) a green circumnavigation event
Solar Sailor - Robert Dane
Solar Studios - Contacts, Project HQ, Sussex, United Kingdom
Stang Lee - Whaling pirate and captain
Starlight - One of the Six-Pack solar powered boats
Steve Green - An award winning freelance reporter
Storm Clouds - A storm brews in the Coral Sea
Suez Canal - Jules Verne hydrogen challenge
Suki Hall - Marine biologist
Sunriser - solar and wind powered catamaran
Suzy Wong - Japanese pirate whaling boat
Tahiti - Jules Verne hydrogen challenge
Tenerife - Jules Verne hydrogen challenge
The Holy Compass - Search for the Grail, Cup of Christ, Cure for Cancer & World Peace
Tonga - Jules Verne hydrogen challenge
Trademarks - Act 1994 - Kulo Luna 6 March 2021 - Elizabeth Swann ES 28 January 2023
Treasure Hunts - 2021
Treasure Island - John Storm investigates sunken Port Royal in the Caribbean Sea
Trinidad - Jules Verne hydrogen challenge
U
Vision - oceans free of man made detritus
Whaling Chase - Japanese pirate whalers kill Kana
Will Eisner - Moby Dick comic illustrated adaptation
WIPO - World Intellectual Property Organization
X
Y
Zheng Ling - Japanese black market boss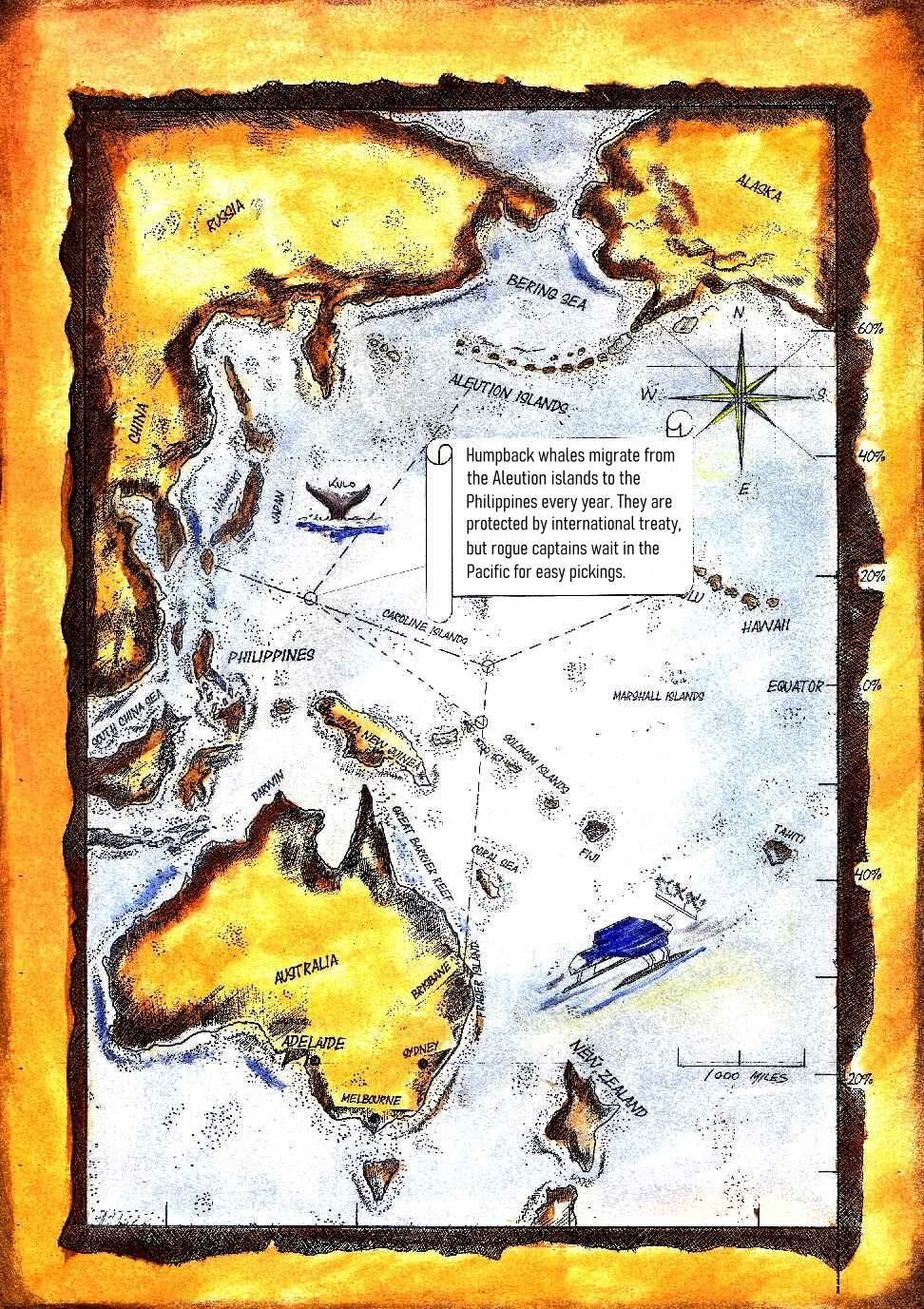 Please use our A-Z INDEX to navigate this site or return HOME