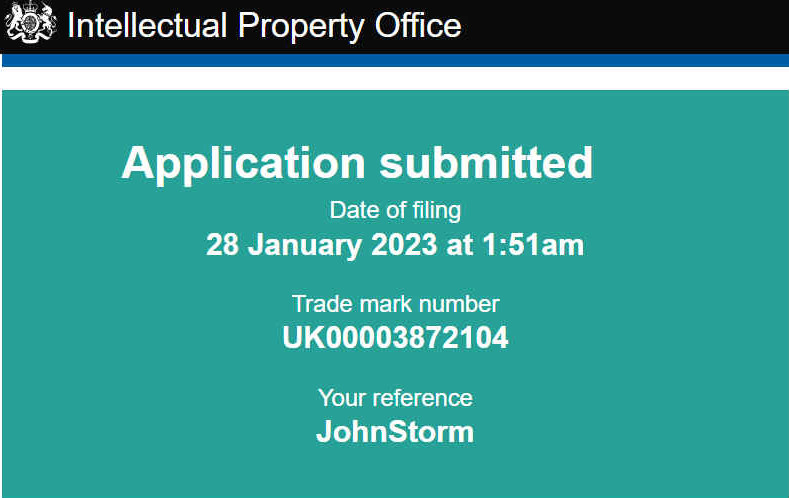 UK00003872104 dated 28/01/2023
| | |
| --- | --- |
| WORD ELEMENTS | TRADE MARK |
| - | - |
| Elizabeth Swann ES | Elizabeth Swann ES |
| - | - |
| Class | Lists of goods or services |
| - | - |
| | Ships; Boats; Parts and fittings for vehicles; Parts and fittings for water vehicles; Yachts; Motor yachts; Hydrofoils being boats. |
| - | - |
| | Parts and fittings for watches; Parts and fittings for jewellery; Parts and fittings for horological instruments; Jewellery; Jewellery, including imitation jewellery and plastic jewellery; Jewelry; Gold jewellery; Costume jewellery; Precious and semi-precious stones; Trophies made of precious metals; Watches made of precious metals; Sculptures made of precious metal; Watches; Chronographs [watches]; Wrist watches; Bracelets for watches; Straps for watches; Sports watches; Diving watches; Parts for watches; Divers' watches; Wristwatches; Wristwatches with GPS feature; Watch straps of plastic; Watch straps made of metal or leather or plastic; Plastic bracelets in the nature of jewelry; Plastic costume jewellery; Solar watches. |
| - | - |
| | Books; Comic books; Manga comic books; Graphic novels; Novels; Charts; Maps; Navigation charts for use in sailing craft. |
| - | - |
| | Clothing; Clothes; Hats; Sports caps and hats; Caps [headwear]; Headgear for wear; Gloves as clothing; Shoes; Sun visors [headwear]; Visors. |
| - | - |
| | Retail services relating to jewelry; Advertising and marketing; Marketing, advertising and promotion services; Internet marketing; Consultancy services relating to advertising, publicity and marketing; Advertising; Advertising for motion picture films; Radio and television advertising; Production of television commercials. |
| - | - |
| | Publishing of maps; Organisation of cultural events; Sporting and cultural activities; Entertainment, sporting and cultural activities; Production of films; Film distribution; Television and radio entertainment; Satellite television series. |
A couple of examples of 'ES ELIZABETH SWANN' watches, in gold with diamond bezel. Divers (stainless & titanium) and watches of genuine recycled ocean plastic, 3D printed, might be part of a range, perhaps with a bespoke custom made service for extra special occasions.
The John Storm ocean and climate awareness adventures are a franchise featuring the amazing solar and hydrogen powered ship (trimaran) 'Elizabeth Swann,' Hal, the onboard AI and Captain Nemo, the autonomous navigation system.
The Elizabeth Swann is a Plastic Free vessel, built of marine grade 5083 alloy, that is 100% recyclable.
The names 'Kulo Luna' and 'Elizabeth Swann' are trade marks, the paternal rights and intellectual property of Jameson Hunter. Copyright is asserted as per sections 77 and 78 of the Copyright Designs and Patents Act 1988 and the Trade Marks Act 1994, as amended in the UK, the Trademark Act of 1946 (also known as the Lanham Act) in the USA, and as per the Berne Convention, internationally in terms of artistic copyright.
The adventures of John Storm and the Elizabeth Swann™ are set in a world where seafood is dangerously toxic, and where whaling has been resumed by agreement of all IWC member countries. John Storm is an ocean adventurer and conservationist confronted with the enormity of the plastic pollution problem. His ship, ''Elizabeth Swann,' is an extremely fast solar powered boat that he hopes will prove the benefits of clean transport, where IMO clean air rules are being flouted. During a race around the world, news of the sinking of a pirate whaling ship reaches John Storm and his mate Dan Hawk. They decide to abandon the race and try and save the whale. Though whaling is legal, using dirty diesel for long range pursuits is not.
Please use our A-Z INDEX to navigate this site