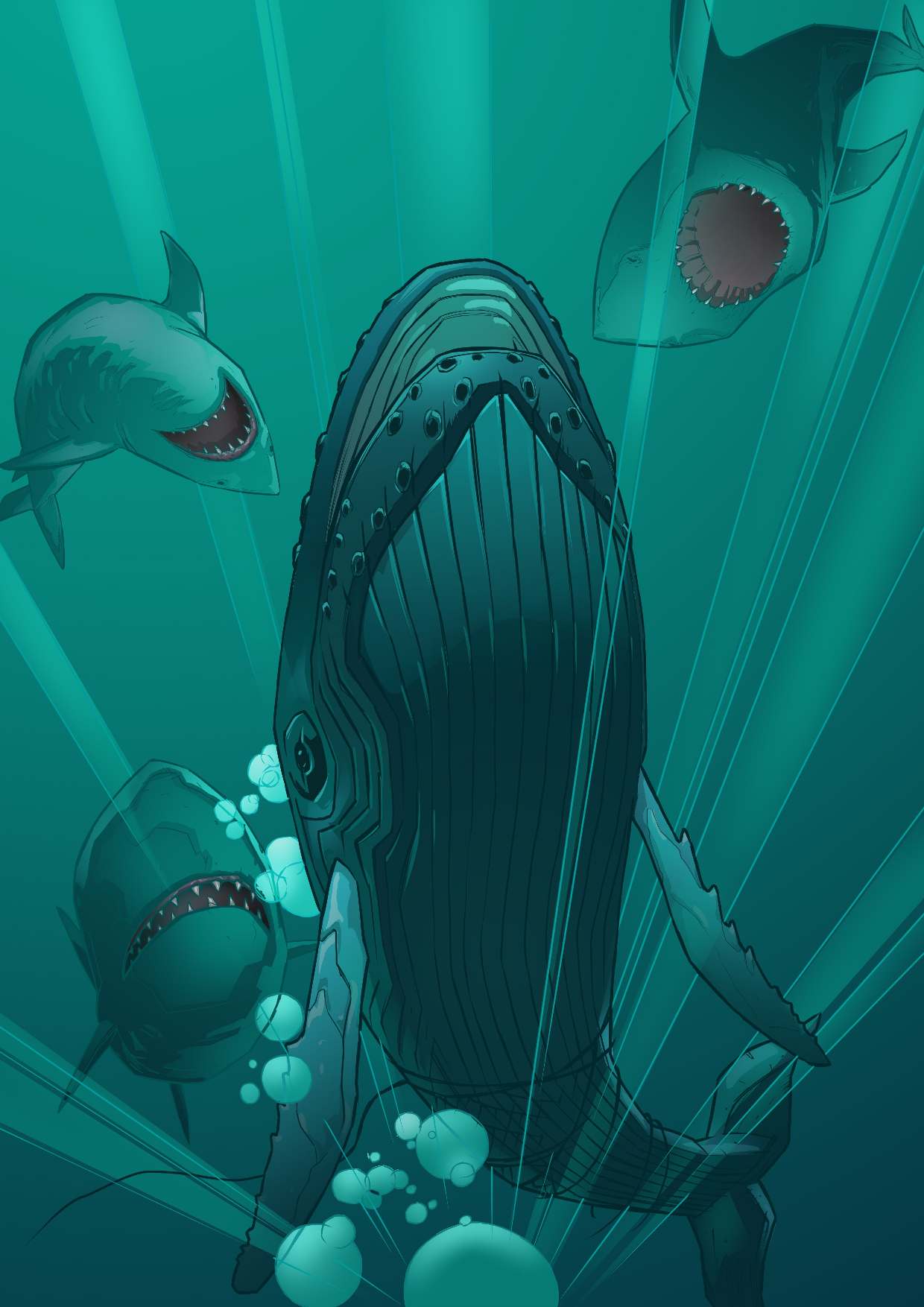 THE $BILLION DOLLAR WHALE - It's all about an exceptionally brave whale, who would have ended up as shark bait, hopelessly tangled in abandoned fishing nets, save for two men who abandoned their lead in a prestigious race to find and save the injured humpback. But it doesn't end there. A whaling cartel has put a price on the whale, and online betting raises the heat that much more.
Set in Australia's east coast (including Sydney), with scenes in London, Japan, Hawaii, the Arctic and several Pacific islands, the film has potential for computers, games, solar-panel producers, soft drinks companies, medical suppliers, the media, mobile telecommunications, satellites, trainers, and much, much more.
The producers are looking to include such products in a script that we should like to be completed in 2021. Inclusion at an early stage will help the writers to complete the proposed script for sharing with potentially interested production companies.
This is a venture gathering momentum as an investment opportunity for private investors, and companies looking to feature products sympathetically, where the (at present) lone development company is inviting established production companies to partner with them to help create a franchise and accelerate the project for eventual release on big and small screens.
Japan is typically a target for whaling protests, but the views of growing numbers of this honourable maritime nation are sometimes unfairly represented. Kulo Luna tells both sides of the story, showing their compassion for marine life, to redress the balance that is missing.
This story is suitable for live action and animation films. The telling of the story differs in sequence to the book and the graphic novel - as follows:
SCENE

DESCRIPTION

RULE OF 3

-

Scene 1

Shark Attack (Flashback action intro)

Setup

Scene 2

Sydney Australia (Flashback, a year earlier)

Scene 3

Scene 4

Scene 5

Scene 6

Scene 7

Scene 8

-

-

-

-

-

-

Scene 9

Off Course (Brought back in time)

Struggle

Scene 10

Scene 11

Scene 12

Scene 13

Scene 14

Scene 15

-

-

-

-

-

-

Scene 16

Payoff

Scene 17

Scene 18

Scene 19

Scene 20

Scene 21

Congratulations (& Credits)
For the animation version we are aiming for 95 minutes runtime, and 110 minutes for live action. We remain flexible, such that we tell the story as it needs to be told.
RULE OF THREE
The number three is king when it comes to just about anything - it doesn't just apply to telling jokes or sales.

In order for an audience to remember an important piece of information or to fully understand and identify with your screenplay's clever third-act twist, you first have to set it up, then you remind them, and only then you make the feel-good pay-off.

This strategy doesn't just apply to your overall movie structure but also to individual scenes and the dialogue within them. Just as a witty one-liner may have a beginning, middle and end, so does a monologue, a heated dialogue exchange, a fight and even a car chase. The rules appear everywhere to varying degrees.
Please use our A-Z INDEX to navigate this site or return HOME