Two live action feature films have been made of this superb story from the famous French science fiction writer.
The first starred David Niven and Shirley Maclaine, the second featured Steve Coogan and Jackie Chan. There was a TV series with Pierce Brosnan and an animated version for children. Another BBC series is planned for release in 2021 starring David Tennant.
There was also a BBC TV travel program series with Michael Palin as the presenter, who emulates the adventures of Philleas Fogg in seven episodes.
1956 DAVID NIVEN
When this movie was made in 1956, one could circumnavigate the globe in a little less than two days. When Jules Verne wrote the story "Around the World in Eighty Days" in 1872, he predicted that one day man could accomplish the task in eighty hours, but which most considered folly to do in eighty days in current times, that is except for people like Englishman Phileas Fogg, a regimented man who believed all it would take is exacting work, the skills he possesses.
He just has to make sure a train's schedule meets the required sailing schedule which meets the required coach schedule and so on. As such, he takes up what ends up being the highly publicized twenty thousand pounds sterling wager from his fellow members at the London Reform Club to do so, losing the bet which would ruin him financially. Along for the ride is Fogg's new, loyal and devoted valet, the recently arrived Latin immigrant, Passepartout, who possesses unusual skills which could be major assets, but whose all consuming thoughts on the opposite sex could take away his focus from the task at hand.
Although Fogg has accounted for certain transportation delays, he may not account for cultural peccadilloes he may encounter along the way which could also cause delays. He is also unaware of the true reason a man name Fix is following them, he who could also derail Fogg's task permanently. As Fogg and Passepartout proceed on their journey, they get into one misadventure after another. Ultimately, Fogg may find other things in life more important than winning the bet.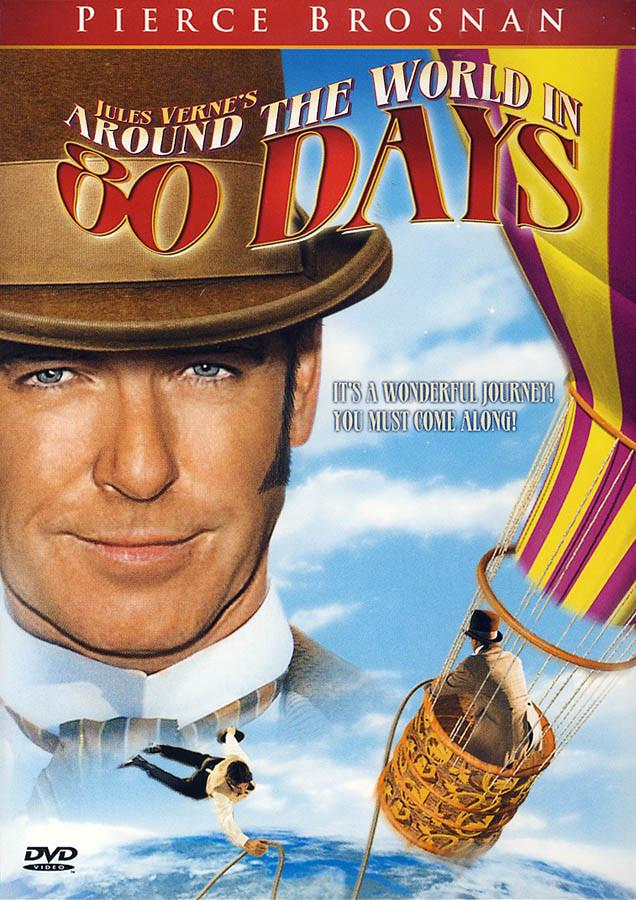 1989 PIERCE BROSNAN
Around the World in 80 Days is a three-part television Eastmancolor miniseries originally broadcast on NBC from April 16 to 18, 1989. The production garnered three nominations for Emmy awards that year. The teleplay by John Gay is based on the 1873 Jules Verne novel of the same title.

The plot centres around Phileas Fogg (Pierce Brosnan) making a £30,000 wager with three members of the Reform Club that he can circumnavigate the world in 80 days. We wondered at the departure from the original £20,000 wager! Fogg takes with him his newly-employed French valet Passepartout (Eric Idle), and is pursued by Detective Wilbur Fix (Peter Ustinov) who mistakenly thinks Fogg robbed the Bank of England and is using the wager as a cover to escape capture.

The heroes travel a slightly different route than in the book, and the script makes several contemporary celebrities part of the story who were not mentioned in the book, such as Sarah Bernhardt, Louis Pasteur, Jesse James, Cornelius Vanderbilt, Empress Dowager Cixi, and Queen Victoria.

The miniseries was filmed on location in England, Macau, Hong Kong, Thailand and Yugoslavia.

Pierce Brosnan as Phileas Fogg
Eric Idle as Jean Passepartout
Julia Nickson as Princess Aouda
Peter Ustinov as Detective Wilbur Fix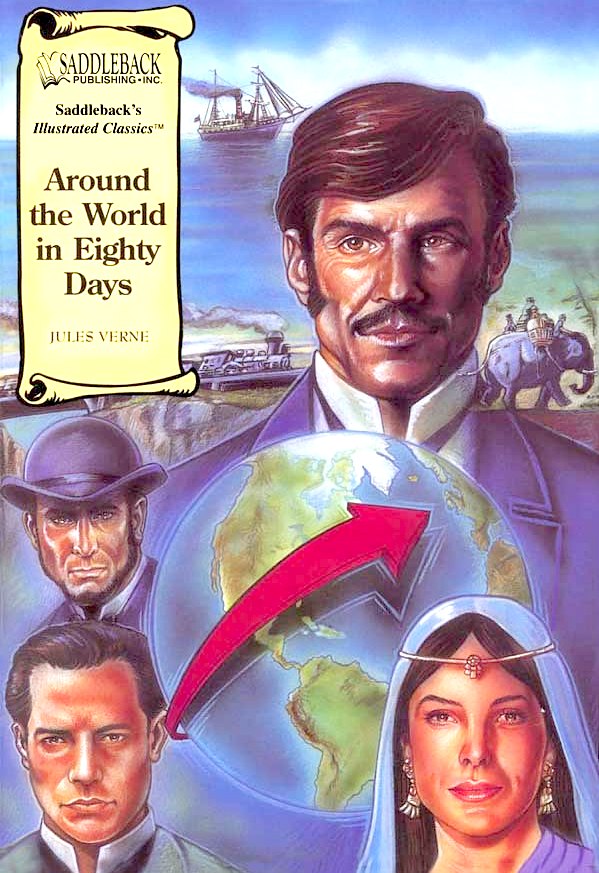 1989 MICHAEL PALIN - BBC TV TRAVEL SERIES
Around the World in 80 Days with Michael Palin is a 7-part BBC television travel series first broadcast on BBC1 in 1989. It was presented by comedian and actor Michael Palin. The show was inspired by Jules Verne's classic 1873 novel Around the World in Eighty Days, in which a character named Phileas Fogg accepts a wager to circumnavigate the globe in eighty days or less.

Palin was given the same deadline, and not allowed to use aircraft, which did not exist in Jules Verne's time and would make completing the journey far too easy. He followed Phileas Fogg's route as closely as possible. Along the way he commented on the sights and cultures he encountered. Palin encountered several setbacks during his voyage, partly because he travelled with a five-person film crew, who are collectively named after Passepartout, Phileas Fogg's manservant.

The programme was a critical and commercial success, winning strong ratings in the UK and selling well abroad. It was also released on video tape and later on DVD. Following the trip Michael Palin wrote a book about the experience. This book contains much more detail than could be presented in the TV programme, and Palin's personal views are also more clearly evident. The book contains many pictures from the trip.

Around the World in 80 Days was the first of a trilogy of globe-crossing series featuring Michael Palin as he visited many countries. The second series was Pole to Pole with Michael Palin (travelling from the North Pole to the South Pole), an 8-part series first broadcast on BBC One in 1992, and the third was Full Circle with Michael Palin (the circumnavigation of the Pacific Rim), a 10-part series first broadcast on BBC One in 1997. The series were followed by several similar conceptual travel series featuring Palin as he concentrated on smaller areas of the world. Hemingway Adventure (following in the footsteps of Ernest Hemingway) first broadcast in 1999, Sahara (travelling around and through the Sahara Desert) first broadcast in 2002, Himalaya (travelling around the Himalayas) first broadcast in 2004, New Europe (travelling around Eastern Europe) first broadcast in 2007, Brazil first broadcast in 2012, and Michael Palin in North Korea broadcast in 2018.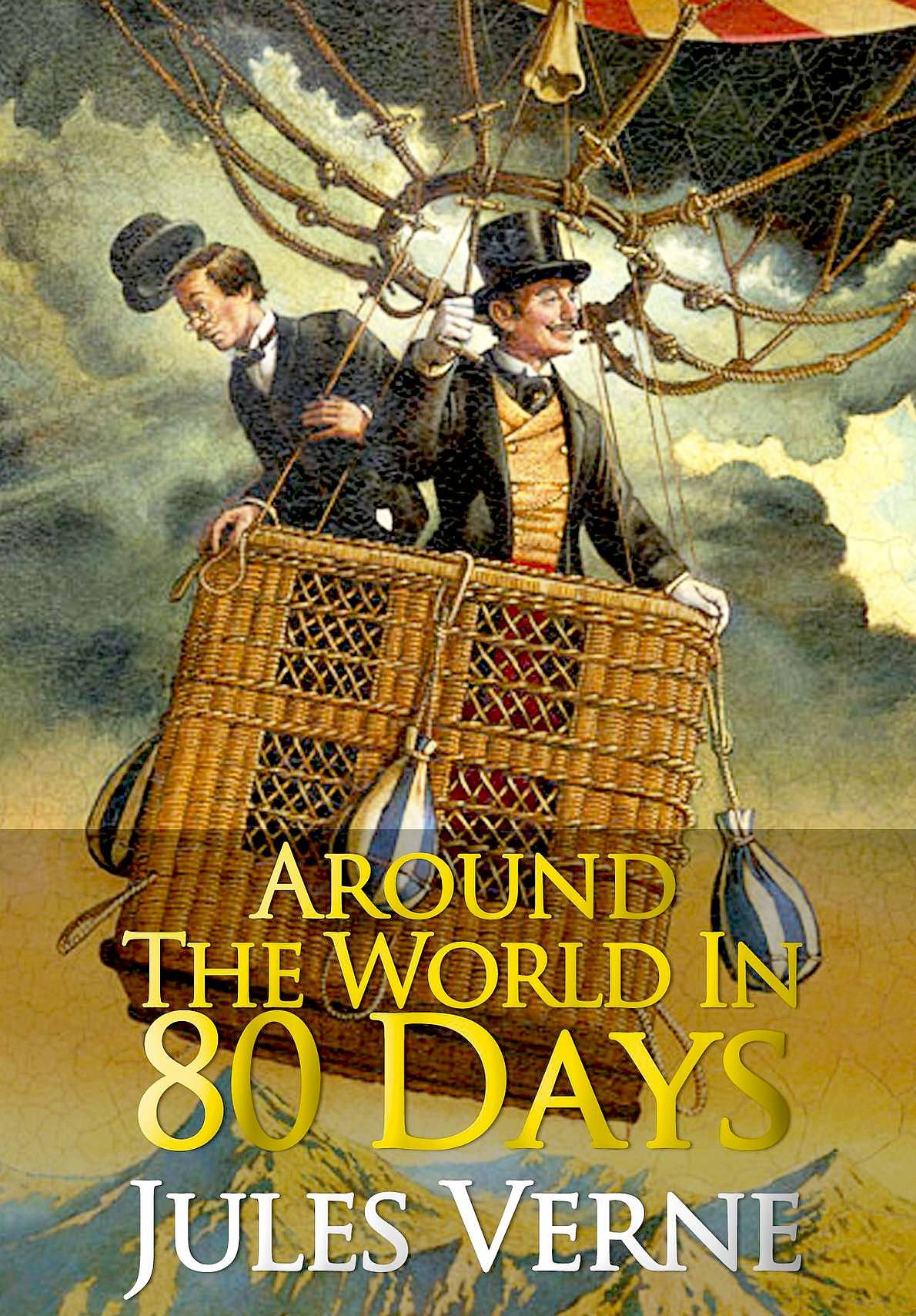 2004 STEVE COOGAN & JACKIE CHAN
This version of 'Around the World in 80 Days' is a 2004 American action adventure comedy film based on Jules Verne's 1873 novel of the same name and remake of the movie of the same name of 1956. It stars Jackie Chan, Steve Coogan and Cécile de France. The film is set in the nineteenth century and centers on Phileas Fogg (Coogan), here reimagined as an eccentric inventor, and his efforts to circumnavigate the globe in 80 days. During the trip, he is accompanied by his Chinese valet, Passepartout (Chan). For comedic reasons, the film intentionally deviated wildly from the novel and included a number of anachronistic elements. With production costs of about $110 million and estimated marketing costs of $30 million, it earned $24 million at the U.S. box office and $72 million worldwide: a box office damp squib. Though good fun for children, not entirely familiar with the book.

It was released by Walt Disney Home Entertainment. One of the main problems to more general acceptance being that this version was so far removed from the original. Otherwise, the timing as a remake was good. A modern CGI enhanced re-telling, along the lines of the Robert Downey Junior'a adventures of Sherlock Holmes, is long overdue, in our view.

PLOT - Lau Xing robs the Bank of England and hides in Phileas Fogg's house, giving his name as "Passport...too". Fogg hears "Passepartout" and hires him as valet. Passepartout helps Fogg break the 50-mph speed barrier. At the Royal Academy of Science, Fogg is insulted by Baron Kelvin. Fogg bets that he can travel around the world in 80 days. If he wins he will replace Kelvin as Minister of Science, if not he will be ruined. Fogg and Passpartout take a carriage out of London after a confrontation with corrupt Inspector Fix, hired by Kelvin.

Passpartout and Fogg journey to Paris, where Passepartout must evade General Fang's warriors. Fang wants the jade Buddha previously given to Lord Kelvin but stolen by Passepartout. Pretending to take Fogg to see Thomas Edison, Passepartout leads him to impressionist painting student Monique La Roche. Passepartout fights the minions while his boss discusses impressionism. The two men and Monique depart in a hot-air balloon, chased by Fang's warriors.

In Turkey, Prince Hapi orders the men to leave while Monique must become his seventh wife. The men convince Hapi to release Monique for "The Thinker" statue. The three travelers escape.

Kelvin learns about the bank robbery. He orders the British-American colonial authorities in India to arrest both men. Passepartout sees notice of the price on his head and warns his companions. Disguised as women they are attacked by Fang's warriors. Using Inspector Fix and a sextant as weapons, Fogg and Passepartout defeat their assailants and flee to China.

In a Chinese village they are captured by the Black Scorpions. Recognized, Lau Xing challenges the leader of the group to a fight. At first he fights alone and is defeated; moments later he is joined by his fellow "Ten Tigers of Canton" to defeat the Black Scorpions. The jade Buddha is returned to the village temple.

Fogg desires to continue alone, disappointed and feeling used by his companions. He travels to San Francisco and is tricked out of his money. He is found destitute by Lau Xing and Monique who have followed him. In the Western desert they find the Wright brothers who discuss their prototype flying machine. Fogg suggests a few changes, which are eagerly taken.

In New York City, a jubilant crowd prevents them from their ship. A policeman leads them to an ambush in a workshop. The three friends fight Fang and her minions and win. Though Fogg could have gotten to the boat, he misses it to help Lau Xing. Fogg feels he has lost, but the other two say they may still make it if they catch the next ship.

They board an old ship and Fogg builds a plane out of the ship's old wood, promising a new ship to the captain. The ship's crew builds a catapult to launch it. The three fly to London and crash-land at the Royal Academy. Kelvin sends police to hinder them, and the clock strikes noon, ending the wager.

Kelvin proclaims himself the victor. Monique, Fix and other ministers attest to Kelvin's unfair methods. Kelvin insults Queen Victoria who overhears the insult which leads to Kelvin's arrest. Fogg realizes he is one day early thanks to crossing the International Date Line. He ascends the stairs of the Academy and kisses Monique, victorious in his bet.

Jackie Chan as Passepartout
Steve Coogan as Phileas Fogg
Cécile de France as Monique Laroche
Jim Broadbent as Lord Kelvin
Ewen Bremner as Inspector Fix
Kathy Bates as Queen Victoria
Arnold Schwarzenegger as Prince Hapi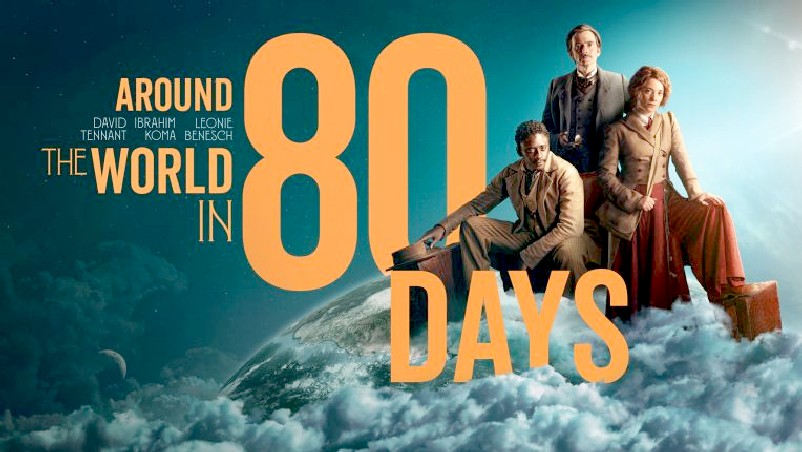 2021 DAVID TENNANT BBC TV SERIES
In his latest role for BBC1's much-anticipated drama Around the World in 80 Days. Former Doctor Who star Tennant dons a moustache and cravat to play literature's most famous explorer, Phileas Fogg, in the series which is a modern take on the 19th century novel by French author Jules Verne.
Around The World In 80 Days release date

Filming of Around The World In 80 Days began in February 2020 but was interrupted by the global pandemic. The shoot has only just picked up again in 2021. Filming is happening all over Europe including Croatia.

BBC1 has revealed that the adventure will play out over eight episodes in 2021 and each episode will be 60 minutes long. It's a good bet that Around The World in 80 Days could be shown on BBC1 over the Christmas and New Year season in 2021, although this has yet to be confirmed.

The story of BBC1's Around the World In 80 Days

The epic eight-part series Around The World In 80 Days follows intrepid adventurer Phileas Fogg and his newly employed French valet Passepartout as they attempt to circumnavigate the world in 80 days as part of an outrageous bet. Along the way they're joined by an aspiring journalist, Abigail Fix, who seizes the opportunity to report on the legendary journey. But the valiant trio find themselves in some hair-raising situations and end up facing the scorching heat of the desert, skullduggery in Hong Kong and strikes in Paris.

Around The World In 80 Days cast — who is joining David Tennant

Joining David Tennant in Around The World In 80 Days are rising French star, Ibrahim Koma (Je Suis Daddy, Mother is Wrong) as Passepartout, the mercurial chancer whose role as Fogg's valet ends up changing his life forever. Meanwhile, Leonie Benesch, who was Prince Philip's sister Cecilie in The Crown on Netflix, is playing Abigail Fix, a journalist determined to make her mark in a man's world and emerge from the shadow of her British establishment father.

Adaptation of Around the World In 80 Days

This adaptation of Around The World in 80 Days is written by a top team including Wild at Heart writer Ashley Pharoah, who also co-created the hit BBC1 series Life on Mars and Ashes to Ashes. 'We're thrilled to have such a talent as David to play this modern take on the iconic role of Phileas Fogg,' says executive producer Simon Crawford Collins. 'I'm excited that viewers will also have the pleasure of watching the extraordinary talents of Leonie and Ibrahim in the roles of Fix and Passepartout, as they travel around the world. The series is full of adrenaline, heart and of course lots of fun, thanks to Ashley and our talented writing team. Viewers are in for something really special!'
BBC Friday, 19th March 2021 update on production

Filming has wrapped on the new BBC One adaptation of Around the World in 80 Days, which sees David Tennant take on the iconic role of explorer Phileas Fogg.

Production company Slim Film+Television announced the news via Twitter, noting that the wrap was all the more impressive given it was exactly a year since the shoot had been closed down as a result of the coronavirus.

"Reflecting – a year ago we had to shut down filming on #AroundTheWorldIn80Days," the tweet read. "Now thrilled to have finished the shoot! Thanks to our fab cast, crew, co-producers @FederationEnt, and partners. Phew!"

"This project is such a challenging and ambitious series to put together so it has required a huge amount of support on all fronts to pull it off," he said.

"We couldn't have achieved it without our wonderful production team, our stellar cast, our super supportive broadcasters and financiers, the inventiveness of our directors and the ingenuity of our wonderful writing team led by Ashley Pharoah."

Production on the series took the cast and crew to Romania and South Africa, with the shoot having taken a combined total of five months, discounting the delays.

The eight-part series is the latest in a long line of adaptations of Jules Verne's classic novel, with Tennant following in the footsteps of the likes of David Niven, Pierce Brosnan and Steve Coogan in playing Fogg.

He is joined in the cast by a stellar supporting line-up, including Jason Watkins (Des), Dolly Wells (Dracula) and Leonie Benesch (The Crown) as well as French actor Ibrahim Koma.

The story follows the globe-trotting expedition of intrepid explorer Fogg, who travels the world along with his valet Passepartout (Koma) and journalist Abigail Fix (Benesch) in order to win a bet set by his friends at the Reform Club.

No exact release date has yet been set for the project, but it will definitely arrive before the year is out – with BBC One having confirmed a 2021 release last year.
This still leaves room for a CGI enhanced (Hollywood) Christmas blockbuster for 2022/23. With a new studio opening in the UK, such delicacy may actually happen.
SUNSET STUDIOS UK - 2 AUGUST 2021

Plans for a £700m "world-class" film and TV studios facility in the UK have been announced. The owners of Sunset Studios in Los Angeles and an investment firm have bought a 91-acre site in Hertfordshire for £120m. Subject to planning permission, the production centre would be built in Broxbourne.
Los Angeles-based studio owner and operator Hudson Pacific has joined with investment company Blackstone and they hoped to transform Broxbourne into a hub for UK and international productions.

The government said it was "supporting" the development of such stage spaces across the UK. Oliver Dowden, Secretary of State for Digital, Culture, Media and Sport, is quoted as saying:
"This new studio is yet another vote of confidence in the UK's booming film and TV industry.

"Through the British Film Commission, we're supporting the development of stage spaces like this across the UK - boosting the local economy and backing our world-class creatives to make the next Bond blockbuster or bingeworthy box set."
Dowden is the Conservative MP for the neighbouring Hertsmere constituency, which includes Elstree Studios.

The companies anticipate the development would "contribute £300m annually to the local economy" and could create up to 4,500 jobs.

James Seppala, head of Blackstone Real Estate Europe, said the development would "deliver a world-class studio facility that will help ensure that the UK continues to be a premiere destination for content production globally".

It would be the first expansion of the Sunset Studios brand outside the United States, which was home to film productions such as When Harry Met Sally, Zoolander and La La Land.

Victor Coleman, chairman and chief executive of Hudson Pacific, is quoted as saying he was looking forward to "working with Broxbourne Council to ensure the project has a meaningful and positive impact on the local community".
Jules Verne was the author of many adventure stories:
1 Twenty Thousand Leagues Under the Sea - Full text Part 1, Part 2
2 Around the World in Eighty Days - Full text Index
3 Journey to the Center of the Earth - Full text Index
4 The Mysterious Island (Extraordinary Voyages #12) Full text Part 1, Part 2, Part 3
5 From the Earth to the Moon
6 Michael Strogoff (Extraordinary Voyages, #14)
7 In Search of the Castaways; or the Children of Captain Grant (Extraordinary Voyages, #5)
8 Five Weeks in a Balloon
9 Round the Moon (Extraordinary Voyages, #7)
10 Adrift in the Pacific: Two Years Holiday (Extraordinary Voyages, #32)
11 The Master of the World (Extraordinary Voyages, #53)
12 The Adventures of Captain Hatteras
13 Les Tribulations d'un Chinois en Chine; The Tribulations of a Chinese in China (Extraordinary Voyages, #19)
14 The Lighthouse at the End of the World
15 Mathias Sandorf (Extraordinary Voyages, #27)
16 Off On A Comet (Extraordinary Voyages, #15)
17 Los quinientos millones de la Begún (The five hundred million of the Begún)
18 Facing the Flag (Extraordinary Voyages, #42)
19 Un capitán de quince años (A fifteen year old captain)
20 El Testamento de un excentrico (The Testament of an eccentric)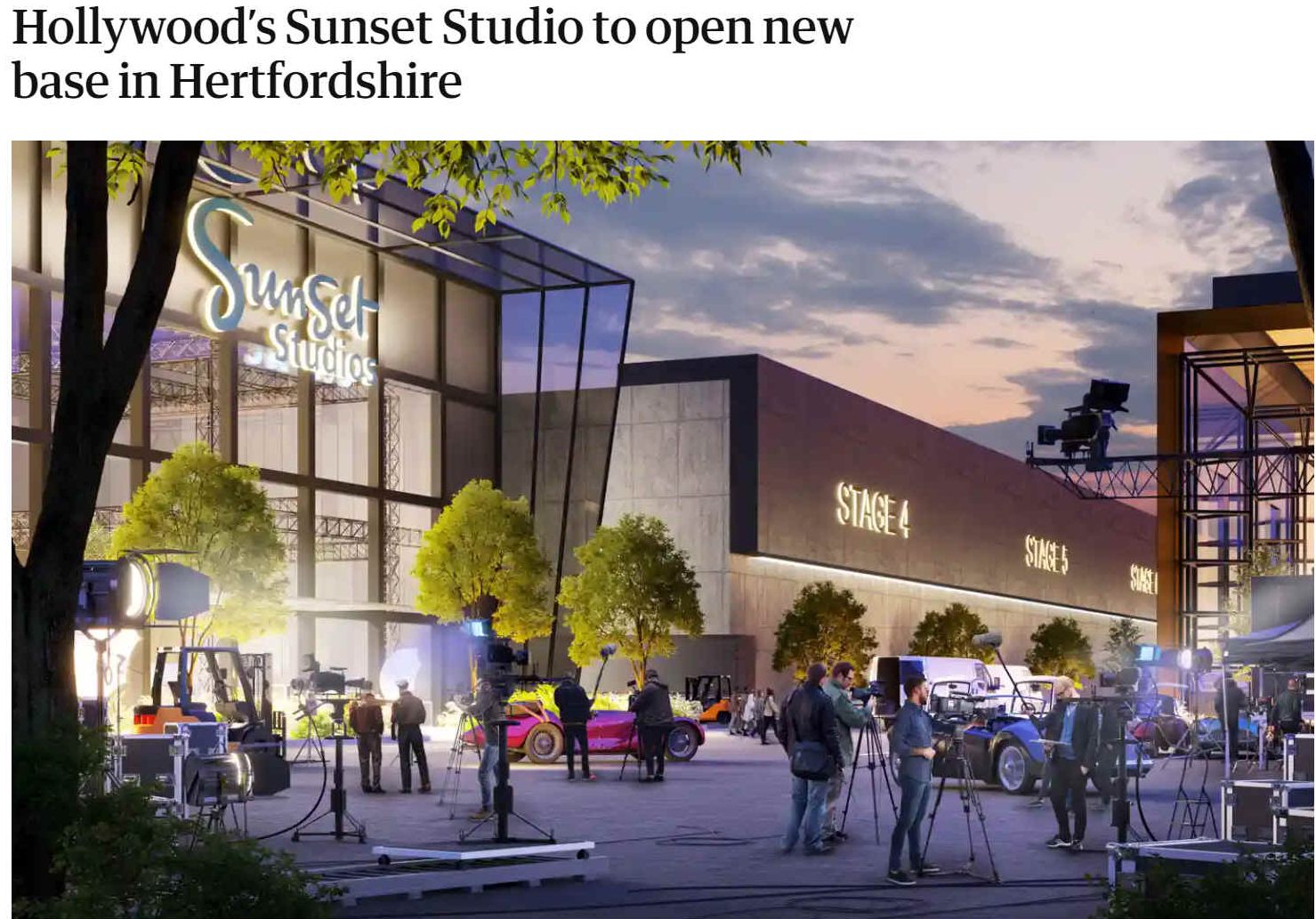 Backed by £700m from two major US investment firms, the TV and film studio complex will create more than 4,500 jobs on a 37-hectare (91-acre) greenfield site in Broxbourne, close to the arc of rival studio complexes north-west of London known as Britain's Hollywood.

The area is already home to independent Elstree Studios, where Paddington, Netflix series The Crown and the BBC's Strictly Come Dancing are filmed, as well as the BBC's own Elstree studio, which is home to EastEnders.

Sky is in the process of building a 13-hectare studio complex in Elstree which will be home for the TV group and NBC Universal, which owns The Fast and the Furious-maker Universal Studios.

There is also a proposal by property developer Bidwells to create Hertswood Studio, a complex including 21 stages, production offices and a film training college, at nearby Borehamwood.

Warner Brothers Studios, where the third film in the Fantastic Beasts Harry Potter spin-off is currently being shot, is in nearby Leavesden.

Sunset is expected to be the largest film and TV studio campus in the UK, with between 15 and 25 sound stages contributing £300m a year to the local economy, if planning approval is given. The group currently owns three studios in Hollywood and announced plans for a fourth – Sunset Glenoaks – last week.

The prime minister, Boris Johnson, welcomed the project saying it was "excellent news for the UK's film and TV industry".

The Sunset development comes amid a surge in film and TV production spend in the UK resulting from a mix of tax breaks and strong demand for new content created by the growth of streaming platforms such as Netflix, Amazon Prime and Apple TV.

International film and high-end TV production spend in the UK topped £2.34bn in 2020, according to the British Film Commission (BFC), the agency responsible for attracting film and TV productions.

While spending was down on a record £3bn in 2019, as many productions were put on hold during the pandemic, the industry returned to growth in the final part of 2020.

New investment came from blockbusters including Jurassic World: Dominion, which has been filming at Pinewood to the west of London, and Mission: Impossible 7 starring Tom Cruise, which has been filming at Longcross studios in Surrey.

"One thing that has become obvious is that the appetite for film and television content from consumers has gone through the roof," said Adrian Wootton, the chief executive of the BFC.

"Streaming subscriptions for firms like Amazon, Netflix, Hulu and Disney have just got bigger and bigger and the pandemic has accelerated that. People have short attention spans and are consuming more and more content."

Wootton said that the BFC was expecting demand for filming facilities in the UK to continue to grow because of that demand and ongoing government incentives as well as the country's established infrastructure, talent and skills base, particularly in areas such as special effects. He said the UK had also been helped by a strong reputation for health and safety measures during the pandemic.

To keep pace with demand, 2.3m sq ft of new sound stage space is required in the UK by 2033 to according to a report by property advisory firm Lambert Smith Howard.

Developers have embarked on a land grab to secure sites to become the home of the next production to rival Game of Thrones, The Crown or Harry Potter.

Pinewood, the UK's biggest studio and permanent home to the James Bond and Star Wars franchises, is to double in size. Pinewood-owned Shepperton, which has a long-term production deal with Netflix, is quadrupling in size.

Last year, the US production outfit behind blockbusters including Venom and Godzilla, Blackhall Studios, unveiled plans for a £150m production complex in Reading.

US property developer Hackman Capital Partners, which owns studios where films including Gone with the Wind were filmed, is investing £300m to build a Hollywood-style production complex in Dagenham, east London.

Last year, the green light was given for a £250m film and TV studio complex in Ashford, Kent, on a former locomotive manufacturing site.

In 2019, Steven Knight, the writer and creator of the Birmingham-set drama Peaky Blinders, unveiled a £100m plan for a film and TV studio in the West Midlands.
| | | | | |
| --- | --- | --- | --- | --- |
| LEG | NAUTICAL MILES | BUNKERING | WAYPOINT | SUNSHINE DAYS |
| - | - | - | - | - |
| | - | - | - | - |
| - | - | FILL UP | | 00.00 |
| 1 | 729 | - | | 1.90 |
| 2 | 3,154 | - | | 8.21 |
| 3 | 1,182 | 1 | | 3.00 |
| 4 | 970 | - | | 2.45 |
| 5 | 3,640 | - | | 9.48 |
| 6 | 1,423 | - | | 3.71 |
| 7 | 410 | - | | 1.07 |
| 8 | 1,886 | 1 | | 4.91 |
| 9 | 340 | - | | 0.88 |
| 10 | 724 | - | | 1.89 |
| 11 | 1,572 | - | | 4.09 |
| 12 | 1,881 | - | | 4.90 |
| 13 | 2,109 | 1 | | 5.49 |
| 14 | 698 | - | | 1.82 |
| 15 | 670 | - | | 1.75 |
| 16 | 1,111 | - | | 2.89 |
| 17 | 170 | - | | 0.44 |
| 18 | 940 | | | 2.45 |
| - | - | - | - | - |
| - | 23,609 | - | RUNTIME DAYS @ 12.5kts | 78.70 |
| - | - | (ADD 3 DAYS) | RUNTIME DAYS @ 13kts | 75.67 |
| - | - | - | - | - |
| - | - | (ADD 4 DAYS) | 14 KNOTS AVE INC | 70.26 |
| - | - | - | AT 15 KNOTS AVE | 65.58 |
| - | - | - | AT 16 KNOTS AVE | 61.48 |
LINKS & REFERENCE
https://www.bbc.co.uk/iplayer/episodes/b008n8yy/around-the-world-in-80-days
https://www.radiotimes.com/tv/drama/around-the-world-in-80-days-filming-finished-david-tennant/
https://www.bbc.co.uk/news/uk-england-beds-bucks-herts-58029042
https://www.theguardian.com/film/2021/aug/02/hollywoods-sunset-studio-to-open-new-base-in-hertfordshire
https://www.bbc.co.uk/iplayer/episodes/b008n8yy/around-the-world-in-80-days
https://www.radiotimes.com/tv/drama/around-the-world-in-80-days-filming-finished-david-tennant/
https://www.bbc.co.uk/news/uk-england-beds-bucks-herts-58029042
https://www.theguardian.com/film/2021/aug/02/hollywoods-sunset-studio-to-open-new-base-in-hertfordshire